President of the Inter-Parliamentary Union (IPU) Abdelwahad Radi has appreciated Vietnam's efforts in preparing for the 132nd IPU Assembly scheduled to be held in the country in March, 2015.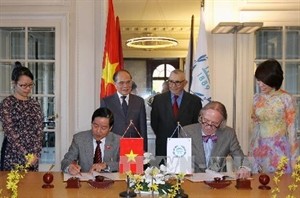 NA Chairman Nguyen Sinh Hung (L) and IPU President sign an agreement regarding the preparation for the 132nd IPU Assembly (Source: VNA)
At a March 17 meeting with National Assembly Chairman Nguyen Sinh Hung in Geneva, Switzerland, the IPU leader expressed his belief that the event's success will mark a milestone in the IPU's history and at the same time help lure more foreign investors to the host country.
Abdelwahad Radi also spoke highly of Vietnam's socio-economic achievements over the past years, attributing them to significant contributions of the Vietnamese legislature.
NA Chairman Hung thanked the IPU President for his support for Vietnam's hosting of the 132nd IPU Assembly and asked for his further assistance to the Vietnamese legislative body's activities.
Hung used the occasion to announce Vietnam's suggestion about the theme of the 132nd IPU Assembly which will focus on parliament and the implementation of the sustainable development programme beyond 2015.
He said Vietnam hopes the theme will encourage member parliaments to exchange viewpoints and priorities of their countries and regions for the post-2015 development.
The proposal won approval of the IPU leader, who said that it is in line with the IPU's strategic orientations, including the enhancement of parliaments' support of international development goals.
Following the talks, the two officials witnessed the signing of an agreement between the Vietnamese NA and the IPU regarding the preparation for the 132nd IPU Assembly and relevant meetings.
The important document serves as the legal framework for Vietnam to officially host the events.
On this occasion, Vietnam unveiled the IPU Assembly's logo .