Vietnam hails the consensus of ASEAN and China in continuing the full implementation of the Declaration on the Conduct of Parties in the East Sea (DOC) towards the building of a Code of Conduct (COC).
The statement was made in Hanoi on Nov. 24 by Vietnamese Foreign Ministry spokesman Luong Thanh Nghi in reply to reporters' questions about Vietnam's reaction to China's expression of willingness to join ASEAN to discuss the COC, at the recent 19th ASEAN Summit.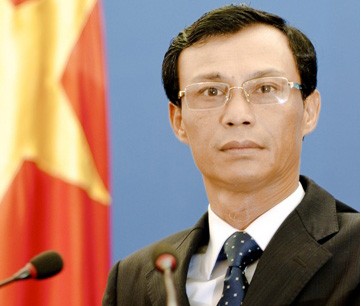 (File) Vietnamese Foreign Ministry spokesman Luong Thanh Nghi
"Peace, stability, security, navigational safety and freedom in the East Sea are the common interest of the region and all countries; concerned parties need to solve disputes through peaceful measures and respect international law, particularly the 1982 UN Convention on the Law of the Sea," he said.
Commenting on reports by the Chinese press on Nov. 22, 2011, saying that the Transport Department of the Chinese province of Hainan has approved a Chinese company's launch of a tourism service to Hoang Sa archipelago, Nghi stressed that Vietnam asserts its sovereignty over Hoang Sa (Paracel) and Truong Sa (Spratly) archipelagos.
"All foreign activities in the two archipelagoes without Vietnam's approval are violations of Vietnam's sovereignty and go against the DOC's spirit," he affirmed.