Hoang Trung, deputy head of the Plant Protection Department, on Monday said that since May the department had temporarily stopped export of five kinds of vegetables to the EU market, until proper quality standards are met.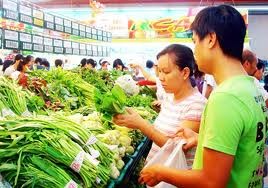 The vegetable section at a supermarket in HCMC (Photo: SGGP)
Speaking at a seminar hosted in Ho Chi Minh City, he said that this move will prevent export of other variety of vegetables and fruits from being affected.
The five vegetables taken off the list are basil, sweet pepper, celery, bitter gourd and coriander. The EU market has on many occasions issued warnings against the quality standards of these vegetables.
Their export will once again resume only after authorities can control their quality standards at source of supply.
In 2010, EU sent 29 warnings on the quality standards of vegetables originating from Vietnam, and in 2011 EU issued as many as 366 warnings.
EU has further warned that if another five more cases of poor quality vegetables are detected they will stop importing all vegetables and fruit from Vietnam.
The Ministry of Agriculture and Rural Development is consulting businesses on regulations of food safety and quarantine of vegetables and fruits, in an effort to instill quality control at supply source itself.