An international press conference was organised on May 23 in Hanoi to update reporters on information of the East Sea situation.
According to Foreign Ministry's Spokesperson Le Hai Binh, since the previous press conference on May 7 on China 's illegal placement of Haiyang Shiyou- 981 in Vietnam 's waters, Vietnam has showed utmost restraint and exhausted all peaceful measures, opportunity and dialogue channels to settle the issue in a peaceful manner.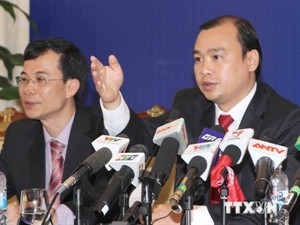 Foreign Ministry's Spokesperson Le Hai Binh at the conference. Photo: VNA
On the contrary, China has continued sending its ships, including military vessels, and military aircraft to the area surrounding its oil rig to threaten and intimidate Vietnamese law enforcement forces who are carrying out their mission of protecting the country's sovereignty, he said.
In addition, China has also continuously slandered and blamed Vietnam on the current situation, while asserted its claim on the so-called " China 's sovereignty" over Vietnam 's Hoang Sa (Paracel) archipelago, noted Binh.
Meanwhile, Tran Duy Hai, Deputy Director of the National Boundary Commission, stated that Vietnam has full legal foundation and historical evidence to strongly prove its sovereignty over Hoang Sa and Truong Sa (Spratly) archipelagoes.
For centuries (at least since the 17th century), Vietnam has established and practiced its sovereignty over the two archipelagoes when they were still derelict, he said.
He affirmed that Vietnamese feudal states also exercised sovereignty over these archipelagoes in a peaceful and continuous manner in accordance with international law without facing objections from any other country.
Hai went on to say that during the French occupation of Vietnam, the French government, in the name of Vietnam, continued managing the two archipelagoes and opposed other countries' claim over them.
He also pointed out that Vietnam's sovereignty over Hoang Sa and Truong Sa archipelagoes was also recognised at the San Francisco peace conference in September 1951.
After that, in accordance with the Geneva Agreement on restoring peace in Indochina which affirmed that all parties involved must respect independence and territorial integrity of Vietnam, France withdrew its troops from Vietnam and the Republic of Vietnam undertook the management of the archipelagoes, he said, adding that the government of the Republic of Vietnam had affirmed sovereignty and taken actions to exercise sovereignty over these archipelagoes.
Hai stressed that China , as one of the participants at the 1954 Geneva conference, knows this only too well and has the responsibility to respect international documents issued at that event.
In 1974, China used forces to occupy Vietnam's Hoang Sa archipelago. At that time, both the Republic of Vietnam and the Provisional Revolutionary Government of the Republic of South Vietnam protested the move, he stated, noting that the United Nations Charter and international law prohibit the use of force to violate the territory of other countries.
China's memorandum issued on May 12, 1988 - an official document by the Chinese Foreign Ministry - also clearly confirmed a basic principle of international law that "invasion does not produce sovereignty" over a territory, Hai stressed.
He noted that no country in the world recognises China's sovereignty over Hoang Sa archipelago, emphasising that China's sovereignty claim over Vietnam's Hoang Sa has no legal foundation.
Hai said China recently intentionally misquoted a diplomatic letter sent by the then Prime Minister Pham Van Dong to China in 1958, with the aim of distorting the truth of Vietnam 's sovereignty over two Hoang Sa and Truong Sa archipelagos.
Regarding a written document released at an international press conference held by the Chinese side on May 6 and articles and remarks by Chinese officials which said Vietnam has designated 57 lots for oil and gas exploration in disputed sea areas, seven of which have been put into operation, and installed 37 drilling platforms, Do Van Hau, General Director of the Vietnam National Oil and Gas Group (PetroVietnam), said China has failed to show any legal evidence to back this claim.
Vietnam affirms that all of the country's oil and gas activities have been conducted totally within Vietnam's continental shelf in line with provisions of the 1982 United Nations Convention on the Law of the Sea (UNCLOS). This fact has been recognised by the international community. Many foreign oil and gas companies have signed contracts with Vietnam on oil and gas exploration and exploitation in lots in Vietnam's continental shelf.
Vietnam has been carrying out effective management and exploitation of the country's exclusive economic zone and continental shelf, including oil and gas activities.
The aforementioned stance of China in fact aims to turn an undisputed sea area into a disputed one with the intention of realising its nine-dash line claims in the East Sea, which is condemned by the international community.
Vietnam firmly rejects the wrongly claims by China and is determined to protect the country's legitimate rights and interests by peaceful measures in line with international law.
In reply to reporters' questions related to legal issues, Nguyen Thi Thanh Ha, head of the International Law and Treaties Department of the Ministry of Foreign Affairs, made it clear that as a member country of the United Nations and the 1982 UNCLOS, Vietnam has the right to use all dispute solving mechanisms prescribed in the UN Charter and the 1982 UNCLOS to address relevant disputes.
The use of peaceful measures include the possibility of using international arbitrary agencies mentioned in the UN Charter and the UNCLOS to address the disputes, Ha said, noting that Vietnamese leaders have affirmed that Vietnam does not rule out any peaceful measure to tackle the disputes.
Deputy Director of the National Boundary Commission Tran Duy Hai said trade activities across the two countries' border still run as usual. He also said that the two sides agreed not to use military measures to settle the disputes during a recent meeting between their Deputy Foreign Ministers.-VNA