After three years of a national poverty reduction program, for the phase 2006 to 2010, Vietnam has achieved its targets, the Ministry of Labor, War Invalids and Social Welfare (MOLISA) said October 2.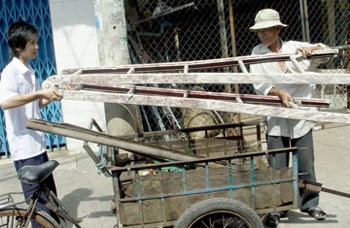 A poverty reduction program helps Tran Van Phan (R), a disadvantaged resident in District 11, HCMC, open a business to buy waste materials to recycle (Photo: Phap Luat)
At a conference in Hanoi, the ministry and the UNDP in Vietnam said that the initial goal of an annual two percent fall in the number of poor households has been surpassed. The current figure stands at a 2.6 percent annual reduction.
By the end of 2008, the ratio of poor households in Vietnam was 12 percent while it was 18 percent in 2005.
They believed that Vietnam could achieve its target in poverty reduction by 2010.
They did, however, note some problems, such as an overlap between the program and other Government poverty reduction projects and, therefore, causing waste.
Some people who are not poor have also accessed social services from the program while some actual poor people have missed out.
To better carry out the program for the remaining year, some experts proposed to set up an overall and comprehensive social welfare system to assist poverty reduction.
The Government approved the program in the early second half of 2007 to mobilize resources to for eliminating hunger and reducing poverty.
The program, including projects to support production and increase income for the poor, helps disadvantaged people access social services and enhances their work skills.