Party General Secretary Nguyen Phu Trong has proposed that the World Bank continue sharing international experience in reform, economic management, poverty reduction and socio-economic development that is applicable to Vietnam.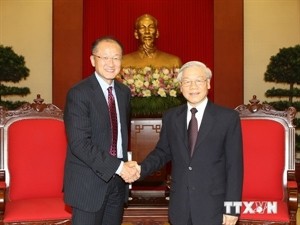 At the reception (Source: VNA)
Meeting WB President Jim Yong Kim in Hanoi on July 17, General Secretary Trong suggested that the bank provide more financial and technical support for Vietnam , helping the country fulfill its set targets.
He highly valued the WB's significant contributions to the country's socio economic development and poverty reduction over the past years.
He briefed his guest on the country's main goals from now to 2020, including reforming growth model and becoming an industrialised country.
For his part, the WB President said he is impressed by the achievements that Vietnam has gained, naming the fulfillment of the two key targets of reducing poverty and improving living conditions for the poor.
He noted that Vietnam has effectively combined socialism-oriented goals with the market economy, stating that the WB will continue to support and cooperate with the country in the future.
Kim also expressed his belief in the future development of Vietnam as well as the country's success in completing all of the goals it has set forth.
Earlier the same day, Kim also had meetings with Prime Minister Nguyen Tan Dung and State President Truong Tan Sang.