Indian President Pratibha Patil will make a State-level visit to Vietnam from Nov. 24-28 at the invitation of President Nguyen Minh Triet.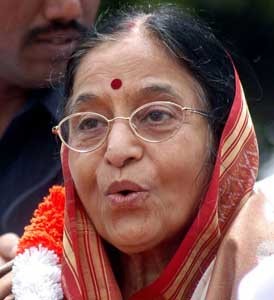 Indian President Pratibha Patil
This will be the first visit to Vietnam by Pratibha Patil and the second by an Indian President since the two countries established diplomatic ties in 1972.
The visit is aimed at boosting the traditional friendship and comprehensive cooperation, as well as expanding the strategic partnership relationship in politics, economy, trade, investment, science and technology and culture.
A number of regional and global issues of mutual concern will be discussed during the visit, as well as measures to strengthen the coordination between the two countries at multilateral forums.
Vietnam-India relations have experienced several important steps in their development, particularly since the two countries established strategic partnership relations in July 2007. The two countries' prime ministers met on the sidelines of the 7th Asia-Europe Meeting (ASEM7) in Beijing, China, in October 2008.
Economic cooperation over the years has experienced a number of significant developments. In 1982, the two countries established a Joint Commission on Economic, Cultural, Scientific and Technical Cooperation, an important mechanism for the two sides to boost cooperation in numerous fields.
Trade turnover between Vietnam and India has increased markedly; from 72 million USD in 1995 to over 1 billion USD in 2006 and 1.53 billion USD in 2007. During the first seven months of 2008 this figure has reached 1.7 billion USD.
Vietnam exports to India coal, pepper, electronic components, rubber, cinnamon, machinery, steel, fiber, footwear; and imports from the latter animal feed, mobile phones, medicines, plastics, steel and other metals, raw materials for pharmaceutical production and garment and textile industry, pesticides and chemical products to India.
As of October 2008, India has 30 valid investment projects in Vietnam, with total implemented capital of 578 million USD, ranking 27th out of 76 investors in the country.
In addition, cooperation in agriculture, culture, education, science and technology, national defence and security has recently been expanded.
The two countries also cooperated closely at various regional and international forums.
India supported Vietnam in its bid to become a non-permanent member of the UN Security Council for the 2008-09 term.
Vietnam has always supported India in its efforts to increase cooperation with ASEAN members, in its participation in East Asia cooperative matters and in its bid to become a permanent member of the expanded UN Security Council.