The documents inked include a memorandum of understanding (MoU) on cooperation between Vietnam's Ministry of Justice and Indonesia's Ministry of Law and Human Rights, and a MoU on information development cooperation between Vietnam's Ministry of Agriculture and Rural Development and Indonesia's Ministry of Village, Disadvantaged Region Development and Transmigration.
Vietnam's Ministry of Industry and Trade and Indonesia's Ministry of Energy and Mineral Resources signed a MoUs on cooperation in gas use in border areas, and another on cooperation in the coal industry.
While the two countries' coast guard forces inked a letter of intent on cooperation enhancement, the Vietnamese and Indonesian Governments signed a MoU on educational cooperation.
At a press conference following the signing ceremony, the leaders expressed their delight at the outcomes of the talks, which took place at the Presidential Palace in Jakarta after an official welcoming ceremony for the Vietnamese leader, who is on an official visit from August 22 to 24.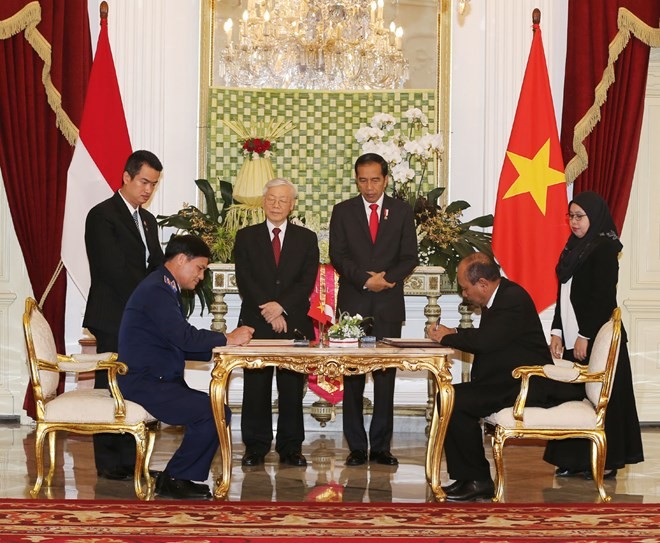 The two leaders witness the signing of a number of cooperation documents after their talks on August 23 (Photo: VNA)

The leaders looked back on the countries' traditional friendship and comprehensive cooperation over the past years and discussed ways to deepen their strategic partnership and boost result-oriented relations in all aspects.
President Widodo emphasised that Vietnam has been a strategic partner of Indonesia since 2013, and both of them are members of ASEAN. Vietnam currently chairs APEC in 2017 and will host the APEC Economic Leaders' Meeting in November. Indonesia always supports Vietnam's role as the APEC Chair.
During the talks, the two sides scrutinised three main issues, namely navigation and fisheries; trade and investment; and regional issues, he said, adding that they agreed to speed up negotiations on the delineation of exclusive economic zones, work to reach consensus on fishing grounds, and reduce illegal fishing.
They discussed new measures and initiatives to boost bilateral trade to 10 billion USD in the near future.
As a big producer and exporter of coffee and pepper, Indonesia agreed to devise concrete measures to manage the products, keep their prices stable and improve products' quality, Widodo noted.
He expressed his hope that Indonesian and Vietnamese investors will receive more favourable conditions for their activities.
At the talks, the two sides exchanged views on regional issues of shared concern, stressing the importance of keeping ASEAN's solidarity and central role, along with forming the ASEAN Community Vision 2025.
Indonesia hailed achievements in the formation of a code of conduct (COC) in the East Sea and considered them a strong foundation for resolving East Sea-related issues and for maintaining stability, peace and prosperity in the region.
Party General Secretary Trong underlined that Vietnam consistently wants to bolster the strategic partnership with Indonesia in a substantive manner. Good implementation of the reached common perceptions and cooperation orientations and measures will strongly develop bilateral relations, thus practically benefiting the two peoples, helping to enhance solidarity among the member countries of the ASEAN Community, and actively contributing to peace, stability, cooperation and development in the region and the world.
Earlier, the Vietnamese Party chief and his entourage laid a wreath at the Kalibata Heroes Cemetery, where veterans of the Indonesian National Revolution and other prominent people are buried.
Later, President Widodo hosted a banquet in honour of General Secretary Trong and the Vietnamese delegation.