On Dec. 10, Vietnamese President Nguyen Minh Triet was given a red carpet welcome in Rome, Italy to herald him on his state visit to the European country.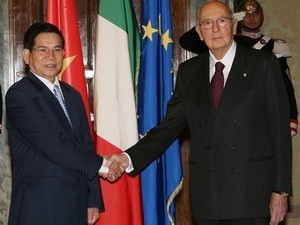 Italian President Giorgio Napolitano (R) receives Vietnamese President Nguyen Minh Triet in Rome on December 10
Following the welcome ceremony, President Triet held talks with President Giorgio Napolitano at which they briefed each other of each country's socio-economic performance and priorities in their internal and external policies, and discussed orientations and measures to elevate the two countries' ties, particularly in economy, trade and investment.
The Vietnamese head of state stressed that Italy is an important European Union partner to Vietnam , confirming Vietnam 's desire to boost friendship and multi-dimensional cooperation with Italy .
" Vietnam expects Italy , the world's seventh largest economy, to bring into full play its role and strength to strengthen its presence in terms of economy, trade and investment, in Vietnam in 2010," President Triet told his counterpart.
He also noted that with the growing role it has achieved in Southeast Asia and especially through its chairmanship of ASEAN in 2010, Vietnam is willing to support Italy in expanding its economic and trade ties with the Southeast Asian region and hopes Italy to act as a bridge for Vietnam to penetrate deeper into Europe.
The Italian President spoke highly of President Triet's first state visit to his country.
He expressed his admiration to the heroism of the Vietnamese people and their immense achievements gained in its renewal and integration course over the years. Napolitano also praised how Vietnam maintained its social and political stability and retained a high economic growth through consecutive years despite the global economic and financial crisis.
The Italian leader affirmed that Italy places importance to bolstering multi-faceted cooperation with Vietnam and that more and more Italian businesspeople are interested in doing business in Vietnam .
He gave high estimation of Vietnam 's role in Asia and the world and hoped Vietnam to work with Italy to enhance the ASEAN-EU relationship.
The Italian president stated that Italy supports Vietnam in negotiations for the Partnership and Cooperation Agreement with the EU and wants to increase coordination and cooperation with the Southeast Asian country in the UN Security Council, ASEM, UNESCO and other forums.
He congratulated Vietnam on successfully performing its UN Security Council non-permanent member duty in the 2009 term and believes the country will fulfill its ASEAN Chairmanship in 2010 successfully.
The two leaders expressed their pleasures at results of cooperation in many fields between the two countries and stressed the need to boost cooperation in trade and investment to strengthen political relations.
They both agreed to create favorable conditions for their enterprises to invest in industry, infrastructure and energy.
The Italian side affirmed its wish to bolster cooperation with Vietnam in education and training, culture, science and technology by opening the doors of leading universities between the two countries and providing training courses for Vietnamese business managers.
President Triet hailed the meeting of the Joint Committee on Cooperation and Development, focused on the implementation of projects of priority like health care, environment and supporting small and medium-sized enterprises.
He thanked Italy for raising assistance to Vietnam and praised development steps in cultural cooperation between the two countries, especially organizing activities to promote culture in Vietnam and Italy .
With high unanimity, the two presidents exchanged views on regional and international issues of mutual concerns including terrorism, nuclear weapons, climate change, environmental protection and regional conflicts.
They also agreed that the two countries would continue to coordinate at regional and international forums for mutual benefits, peace, stability, cooperation and development in Asia, Europe and the world.
Following the talks, the two leaders met with the media.
The same day, President Triet also attended the Vietnam-Italy Business Forum where he promised Italian investors favorable conditions for doing business in Vietnam .
Addressing the forum jointly held by Vietnam Chamber of Commerce and Industry and the Italian General Industry Federation, the president reiterated that the State of Vietnam always respects and wishes to further develop the friendship and cooperation with Italy .
He called on Italian businesses that have already operated in Vietnam to promote the country among Italian investors and expressed his belief that the fine political relations between Vietnam and Italy will be a foundation to facilitate bilateral economic, trade and investment sectors.
Later that day, the State President held talks with Italy 's Minister for Economic Development Claudio Scajola and senior officials from leading business groups and economic associations in Italy .
President Triet told the reception that Vietnam continues to step up economic reforms and strictly implements commitments on global economic integration, including its pledge to join the World Trade Organization.
He asked for Italian support to increase Vietnam 's multi-faceted relations with the European Union and for its bid to gain the European Commission's recognition as a market economy.
Taking the occasion of the President's visit, the state audit bodies of Vietnam and Italy held talks on Dec. 10 exchanging experiences and discussing future cooperation.