Vietnam always attaches importance to economic cooperation with Japan, said Vietnamese Deputy Prime Minister Nguyen Xuan Phuc.
He made the statement in his meeting with Yoshihiko Nagasaki, Vice Chairman of the Japan-ASEAN Cultural and Economic Exchange of the Friendship Exchange Council (FEC) of Japan on Nov. 14 in Hanoi.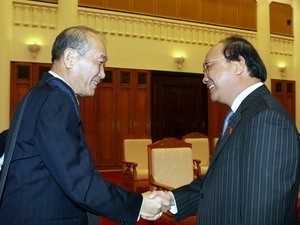 Vietnamese Deputy Prime Minister Nguyen Xuan Phuc (R) greets Yoshihiko Nagasaki in Hanoi Nov. 14, 2011 (Photo: Vietnam News Agency)
The Deputy Prime Minister affirmed the Vietnamese Government will facilitate Japanese enterprises' business and investment in Vietnam, especially in the fields of infrastructure, seaport, supporting industry, energy, healthcare, education and environmental protection.
He said he hopes that FEC will actively contribute to strengthening relations between the two countries, not only in economics but also in education and training.
Yoshihiko Nagasaki spoke highly of Vietnam's policies of macroeconomic stability and its efforts to curb inflation. He also said his visit to Vietnam aims to foster economic exchange and cooperation between the two countries.
He expressed hope that the Vietnam-Japan economic cooperation will be boosted strongly in the future.