Deputy Prime Minister and Foreign Minister Pham Binh Minh co-chaired the seventh meeting of the Vietnam-Japan Cooperation Committee and held talks with Japanese Foreign Minister Fumio Kishida as part of his official visit to Japan from July 29-31.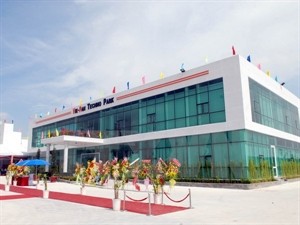 First phase of Vietnam-Japan tech park (Source: VNA)
At the talks and the meeting, both sides discussed specific measures to speed up the outcomes of the Japan visit by Prime Minister Nguyen Tan Dung in early July as well as other visits of senior leaders in the time ahead to further deepen the two countries' extensive strategic partnership.
They agreed to enhance political trust by maintaining regular visits and meetings of high-level leaders, fostering cooperation in all fields, as well as boosting dialogue mechanisms like the Vietnam-Japan Cooperation Committee, strategic partnership dialogue and defence strategic dialogue.
Both sides concurred to organise meetings on agriculture to early sign a medium- and long-term vision for agricultural cooperation in 2015, while soon holding the first meeting of the Vietnam-Japan Joint Committee on Industry, Trade and Energy Cooperation, and implementing the sixth phase of the joint initiative on improving investment environment.
They vowed to intensify exchanges to tighten economic links and reach more cooperation agreements relating to official development assistance, trade, investment and agriculture, while affirming determination to effectively implement large-scale projects, including the Ninh Thuan 2 nuclear power plant and the north-south highway.
The two sides exchanged opinions on ways to develop the support industry and foster bilateral trade.
Foreign Minister Kishida committed to accelerating procedures to early sign ODA projects with Vietnam in the 2015 fiscal year, including six additional projects worth 280 billion JPY (2.25 billion USD).
The Vietnamese official, in turn, spoke of the Japanese Government's facilitation of visa granting to Vietnamese citizens as well as its decision to receive up to 500 Vietnamese orderlies each year.
The two sides also discussed regional and international issues of mutual concern, and agreed to intensify coordination at regional and international forums.
Regarding the East Sea issue, both sides shared deep concerns with the international community over the current East Sea situation. They agreed on the importance of maintaining peace, and maritime and aviation security, safety and freedom, requesting the parties involved to strictly obey international law, especially the United Nations Convention on the Law of the Sea and the Declaration on the Conduct of Parties in the East Sea, and work towards the formation of a Code of Conduct in the East Sea.
Kishima affirmed that Japan will actively cooperate for the success of the Asia-Pacific Economic Cooperation (APEC) Year hosed by Vietnam in 2017.
During his stay in Japan, Minh had meetings with Prime Minister Shinzo Abe, Speaker of the House of Representatives Tadamori Oshima, Minister of Land, Infrastructure, Transport and Tourism Akihiro Ohta, and leaders of the Japan Business Federation (Keidanren) and the Japan International Cooperation Agency (JICA).
At the meetings, Minh confirmed that Vietnam continually considers Japan its leading strategic partner, especially in economic cooperation, and is willing to work with Japan to promote the strategic partnership between the two countries in all fields from politics, economics, security-defence to agriculture.-VNA