Chairman of the National Assembly (NA) Nguyen Sinh Hung has said the Vietnamese NA, Government and people highly value the deepening of friendship and comprehensive cooperation with Japan, and consider it a top priority in the country's foreign policy.


Hung, who is paying an official visit to Japan at the invitation of the President of Japan's House of Councillors, Hirata Kenji, made the statement during the talks between Vietnamese and Japanese parliamentarians in Tokyo on December 5.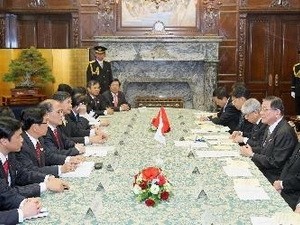 NA Chairman Nguyen Sinh Hung holds talks with President of Japan's House of Councillors Hirata Kenji. Photo: VNA
He said his visit aims to boost the strategic partnership between the two countries in all fields, while fostering the friendship and cooperation between the NA of Vietnam and Japan 's House of Councillors.
Hailing Japan's successful recovery after the devastating earthquake and tsunami in March 2011, Hung expressed his belief that the country will continue to prosper and play an increasingly important role in the region and the world. Vietnam will do its utmost to support Japan, the NA Chairman affirmed.
Hung stressed that the two countries should closely coordinate to successfully organise the Vietnam-Japan Friendship year to celebrate their 40 th anniversary of diplomatic ties next year.
He thanked the Japanese Government for its large amount of ODA to Vietnam , and affirmed that the aid will be used in an effective way.
Proposing measures to accelerate the strategic partnership between the two countries, Hung suggested that both sides increase visits and meetings among senior officials, and exchanges between the two parliaments, in particular among friendship parliamentary groups and committees from both parliaments to learn from each other's law-making experience.
Applauding Vietnam 's socio-economic achievements and its role in Southeast Asia, Kenji emphasised that by strengthening cooperation with Vietnam, Japan can broaden its relations with other regional countries for peace, friendship and development.
Kenji expressed his hope that the Vietnamese and Japanese Governments will work together more closely, especially in education and culture. He affirmed that Japan will continue increasing ODA to Vietnam and hopes the country will effectively manage and distribute the aid.
He also suggested that Vietnam improve its investment environment and create favourable conditions for businesses from both countries to operate.
Later the same day, Hung and his delegation visited the Vietnamese Embassy in Japan and met representatives from the Vietnamese community in Tokyo.
Hung said he is delighted with the Vietnamese community's improved economic and living conditions. He briefed them on the current socio-economic situation in Vietnam and the country's goals for 2013 and beyond.
He affirmed that the Party and State of Vietnam always listen to the Vietnamese overseas, including those in Japan, and create conditions for them to settle and integrate in the resident countries, and maintain and develop their traditional identity, contributing to the nation's development.-