Japanese Prime Minister Taro Aso praised Vietnam's efforts in minimizing the impacts of the global financial crisis and maintaining economic growth, and said Japan's National Diet was considering the passing of the Vietnam-Japan Economic Partnership Agreement (VJEPA).

He was speaking at a meeting on May 22 with Vietnamese Prime Minister Nguyen Tan Dung, who is in Tokyo for the 15th International Conference on 'The Future of Asia' annually held by the Nikkei newspaper.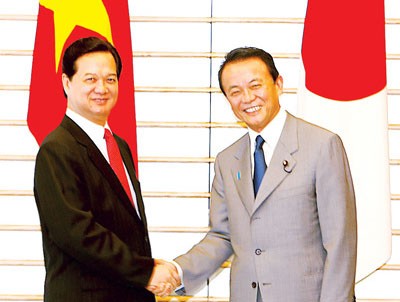 Japanese PM Taro Aso (R) greets PM Nguyen Tan Dung in Tokyo on May 22
The two PMs agreed that Vietnam and Japan would continue promoting bilateral cooperation in various fields, including economics, trade, culture, education and infrastructure.
Mr Dung called on Japan to continue providing ODA to Vietnam and asserted that Vietnam would try its best to efficiently use Japanese ODA. The country would also work closely with Japan to fight corruption, he added.
He asked Japan to help Vietnam effectively develop large-scale infrastructure projects, including the North-South Highway and North-South Railway Line, the Hoa Lac Hi-tech Park, the T2 terminal at the Noi Bai International Airport, and the Lach Huyen international seaport in the northern city of Hai Phong.
PM Aso said that Japan would consider a proposal to allow Vietnam to access Japan's emergency aid package to ease the impacts of the global economic turmoil.  
The two sides agreed to establish a forum for dialogue and information exchange on Vietnam's market economic, on which Japan can consider its recognition of Vietnam's market economy.
PM Aso invited his Vietnamese counterpart to the first Mekong-Japan Summit to be held in Tokyo late this year.
Earlier on the same day, PM Dung had a talk with Yohei Kono, Speaker of the Japanese House of Representatives, and Eda Satsuki, President of the House of Councilors.
He hoped that the Diet would soon ratify VJEPA to create a favorable, equitable and fair environment in bilateral economic relations.
PM Dung conveyed Vietnam's National Assembly chairman Nguyen Phu Trong's invitation to visit Vietnam to the two leaders.
The same day also saw PM Dung meet with various dignitaries, including former Japanese PM Shinzo Abe, Japan-Vietnam Parliamentary Friendship League President Tsutomu Takebe, and Japan Atomic Industrial Forum President Hattori Takya.