The high level delegation of Vietnam led by Prime Minister Nguyen Tan Dung visited Kuala Lumpur capital in Malaysia to join the 27th ASEAN Summit and related meetings starting November 21 to 22.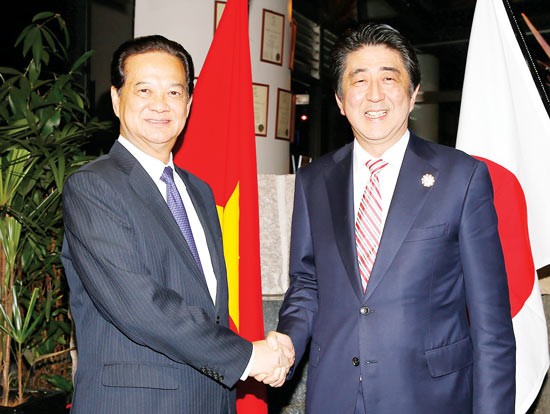 Vietnamese Prime Minister Nguyen Tan Dung (L) meetsJapanese Prime Minister Shinzo Abe in Malaysia. (Photo:SGGP)
The summit aims to not only strengthen the mutual connectivity and solidarity between ASEAN member countries but also affirm important role of ASEAN member countries in ensuring peace, security, cooperation and development in the region.
On the margin of the 27th ASEAN Summit and related meetings in Malaysia, Prime Minister Nguyen Tan Dung had a meeting with Japanese Prime Minister Shinzo Abe.
At the meeting, two prime ministers appreciated strategic partnership relations between Vietnam and Japan, and exchanged directions as well as solutions for implementing high level agreements between two countries.
The two sides agreed to work closer in implementing high-level agreements under its industrialization strategy within the Vietnam-Japan cooperation framework in the fields of human resources training and nuclear power energy. In the education sector, the two sides agreed to push construction progress of Vietnam- Japan University.
Mr. Shinzo Abe said: "Japan will continue to donate Yen 175 billion (US$ 1. 4 billion) to Ho Chi Minh City Urban Railway Construction Project (Ben Thanh-Suoi Tien Section (Line. 1), Thai Binh Thermal Power Plant and the Ho Chi Minh City Environmental Sanitation Project.
Both two countries agreed to boost cooperation in the form of using US$ 110 billion credit fund in the high quality infrastructure cooperation and development in Asian area.
Besides,Vietnam and Japan agreed to cooperate closer in multilateral forums and international cooperative mechanisms to promote approval and implement the Trans-Pacific Partnership (TPP), Regional Comprehensive Economic Partnership (RCEP) negotiation and agreement of parties relating to the 2015 United Nations Framework Convention on Climate Change (COP 21) in Paris.
During the meeting, the two sides also exchanged views on international and regional issues; and emphasized the importance of freedom, security, maritime and aviation safety on the basis of international law, the Declaration on the Conduct of Parties in the East Sea (DOC) and the future Code of Conduct of Parties in the East Sea (COC).