Vietnam will be a partner that Kuwait can trust in to boost cooperation centering on energy, said Vietnamese President Nguyen Minh Triet while receiving Kuwaiti Minister of Oil and Minister of Information Ahmad Al-Abdulla Al-Ahmad Al-Sabah in Hanoi on Sept. 21.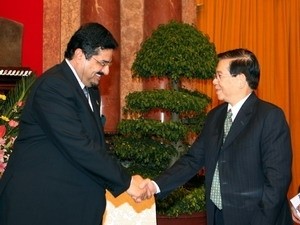 Vietnamese President Nguyen Minh Triet (R) receives Kuwaiti Minister of Oil and Minister of Information Ahmad Al-Sabah in Hanoi Sep. 21 (Photo: VNA)
The State President stressed that Vietnam attaches importance to developing friendship and comprehensive cooperation with the Gulf country, expanding ties in fields where they have strong potential, such as economy, trade, investment, science-technology, tourism and labor.
He said Vietnam appreciates Kuwait's role and position in the Gulf region and in the world arena, and welcomes Kuwaiti investors to Vietnam, particularly in fields that are their fortes such as oil and gas, infrastructure, transport and real estate development.
Many Kuwaiti investment projects have been efficiently progressing in Vietnam, President Triet said, emphasizing Kuwait's investment in an oil refinery in Nghi Son, in the central province of Thanh Hoa.
The Kuwaiti Minister made a report to his host on his working sessions with the Vietnamese Ministry of Industry and Trade and the Vietnam National Oil and Gas Group (PetroVietnam). He said Kuwait wishes to set up a partnership with Vietnam, and expressed his belief in the strong development of their bilateral relations.
He cited as an example of good bilateral cooperation, Kuwait's investment in the Nghi Son Oil Refinery joint venture which can amount to 8 billion USD, adding it would create favorable conditions for PetroVietnam to enter the local energy market.
He said the two countries have set up a joint committee for economic cooperation that will discuss concrete ways to collaborate in their first meeting in December.
In addition, the Kuwait Investment Fund is effectively operating in Vietnam, and Kuwait is considering the provision of scholarships to Vietnamese students to study in their country.
Earlier, the Kuwait Minister and Vietnamese Minister of Industry and Trade Vu Huy Hoang held talks on economic cooperation, focusing on oil and gas.
Minister Hoang said that Vietnam wants Kuwait's assistance in energy security and is eager to assist Kuwait in food security, which are both critical matters in which each side has particular strengths.
Hoang suggested Kuwait help PetroVietnam in investing in oil and gas projects as well as assist Vietnam in training personnel for the oil and gas industry, and supply, in a consistent, long-term manner, crude oil products, liquefied petroleum gas (LPG) and liquefied natural gas (LNG) to Vietnam. He also asked the Gulf country to provide favorable conditions for the Vietnam National Petroleum Corp. (Petrolimex) and the Kuwait Petroleum Company (KPC) to expand their cooperation into a comprehensive and long-term partnership.
Regarding the Nghi Son joint venture, Hoang urged the partners, including Kuwait, to speed up the process in order to sign an Engineering, Procurement and Construction (EPC) contract in June 2010.
The Kuwaiti Minister said his country appreciates Vietnam's incentives for Kuwaiti investors in Vietnam and he hopes that KPC and PetroVietnam will soon establish oil and gas joint ventures as quickly as possible. He also affirmed that Kuwait would provide favorable conditions for Vietnam's stable and long-term supply of food to the country.
On the same day, the Kuwait Minister, who is also KPC Chairman, had a working session with PetroVietnam leaders.
According to PetroVietnam General Director Phung Dinh Thuc, KPC has signed two production sharing contracts for Blocks 19 and 20, offshore Vietnam, and is a partner of the Nghi Son Refinery Joint Venture.
KPC, together with the MITRA Energy and the PetroVietnam Exploration Production Company, is preparing for an extended contract with PetroVietnam.