The schedule has been confirmed for an upcoming three-day program starting October 22 to commemorate the 60th anniversary of the Vietnamese, Lao collaboration in their war against French colonialism.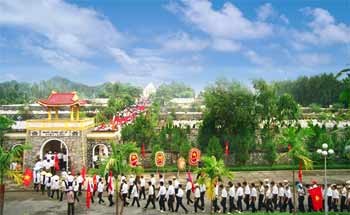 Three hundred officials, soldiers and revolutionary martyrs' relatives from Laos and Vietnam will come together at the Viet-Lao Martyr's Cemetery in central Nghe An Province beginning October 22
The statement was announced recently by Vietnam's Deputy Minister of Foreign Affairs Mr. Nguyen Thanh Son. 
The program features a variety of activities including culture exchanges between the two countries and a traditional festival to pray for the peace of the Vietnamese and Laotian revolutionary martyrs' souls.  
The Vietnam-Lao Martyrs' Cemetery in Anh Son Town of thecentral province of Nghe An has been selected as the venue for the event. The program will also welcome 300 senior officials from Vietnam's Communist Party and Laos, representatives from the Veterans Association of Vietnam, Vietnamese and Lao veterans who participated in Lao's past wars, and martyrs' families and relatives.  
The event will wrap up with a concert entitled "Viet – Lao: Tinh sau, nghia nang" (Vietnam – Laos: Ardent love and great loyalty) on October 24. The show will be broadcast live on channel VTV1.  
The program is co-organized by Vietnam's State Commission on Overseas Vietnamese, Vietnamese Buddhist Sangha, Nghe An Province People's Committee, and the General Political Directorate under the Ministry of National Defence.