Representatives from Vietnam's Ministry of Education and Training (MOET) and Lao Ministry of Education and Sports signed a cooperation plan in Hanoi on January 18, to increase bilateral cooperation.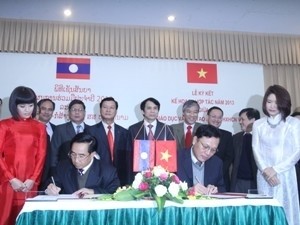 The educational leaders sign the 2013 cooperation plans (Source: VNA)
The plan aims to increase the quality and efficiency of bilateral cooperation in education and human resource development over the period 2011–2020, and build a platform for staff training cooperation protocol between the Vietnamese and Lao Governments.
Vietnam will receive more than 400 Lao students and teachers to participate in training courses during 2013. Both sides will organize high-ranking delegation exchanges to share experiences and assist each other.
At the signing ceremony, Lao Minister of Education and Sports Phankham Viphavanh awarded the Lao Government insignia to some individuals and units of Vietnam's Ministry of Education and Training.
On this occasion, Pham Vu Luan, Minister of Education and Training reiterated Vietnam's determination to reinforce the special friendship with Laos.
Previously, Transport Ministers of Vietnam, Laos and Cambodia had signed a Memorandum of Understanding (MoU) to accelerate road transport cooperation.
The MoU, inked during the ministerial meeting in Laos' southern Pakse Champasak Province on January 17, will allow vehicles from the three countries to cross their borders.
This will facilitate the transportation of goods and passengers including via sea ports among the three countries, and boost socio-economic development in each country, especially the development triangle region.