The three-day visit to Vietnam by Laos Communist Party General Secretary and State President Choummaly Sayasone concluded on April 25, with a joint communique issued.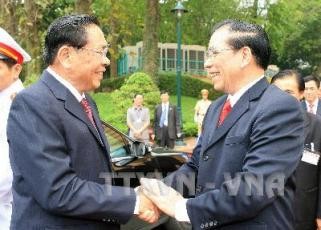 Vietnam's Party leader Nong Duc Manh (R) receives Laos Communist Party General Secretary and State President Choummaly Sayasone in Hanoi on April 23 (Photo: VNA)

In the joint communique, General Party Secretary Nong Duc Manh welcomed the visit by his Lao counterpart and applauded Laos' great achievements in national construction and development. He also thanked Laos for its valuable support.

President Sayasone expressed his pleasure in Vietnam's achievements through its "doi moi" (renovation) policy over the past 20 years. He believed that Vietnam, under the leadership of the Communist Party of Vietnam, will continue to develop and enhance Vietnam's position in the region and the world.

The two sides also expressed their pride in their traditional and friendly relationship.  They affirmed that they would continue consolidating and expanding comprehensive cooperation.

Vietnam and Laos agreed measures to boost cooperation in the fields of politics, history, culture, defense, security and crime fighting, among others, according to the joint communique. 

They said they would build the border into an area of peace, stability and development for mutual benefit.

In addition, they also noted cooperation in agriculture, forestry and natural resource management, health and media will also be improved.

Both countries will strengthen cooperation in education and training, exchanging experts, and promoting the teaching of Vietnamese in Laos and Lao in Vietnam, the joint communique said.

They would jointly set up a strategy for Vietnam and Laos cooperation in 2011 – 2020. The two countries would encourage business to invest in such fields as trade, transport, energy, mining, oil and gas exploration, post and telecommunications, tourism.
The countries agreed to increase two-way trade to US$1 billion by 2010, and set up economic zones around the border, according to the joint communique.

The two countries will strengthen coordination in regional and international issues, as well as forums such as ASEAN, the East-West Economic Corridor and Greater Mekong Sub-Region.

President Choummaly Sayasone also formally invited Mr Manh and President Nguyen Minh Triet to visit Laos in the future.