Vietnam is ready to share experience and work closely with Laos to promote the training of Lao undergraduate and postgraduate students as well as lecturers, in the field of finance and banking in Vietnam.
Vietnam Standing Deputy Prime Minister Nguyen Sinh Hung made the statement during his meeting with Lao Minister of Finance Somdi Duongdi in Hanoi on June 26.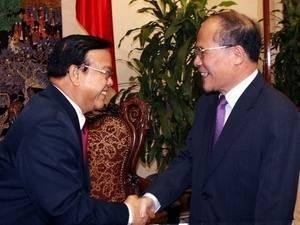 Vietnam Standing Deputy PM Nguyen Sinh Hung (R) receives Lao Minister of Finance Somdi Duongdi.
Deputy PM Hung said he completely agreed with co-operation programmes between the two countries' finance ministries and asked them to continue cooperating in this field, contributing to expanding bilateral trade investment.
He said ministries and the departments of the two countries should promote the sharing of experience and help each other, especially in human resources training for the finance and banking sector to meet the demand of the State economic management system at the central and local levels.
Minister Somdi Duongdi thanked the Vietnamese government and finance ministry for their valuable support to Laos in building financial mechanisms, policies and law, which betrays that the Vietnam-Laos time-honored traditional friendships are invaluable asset which has been fostered by the two leaders and peoples for long.
Mr. Duongdi said he hoped the Vietnamese government will continue to provide assistance to Laos in training human resources and sharing experience in the financial management in the near future, adding that in the coming time, officials of the two finance ministries would hold an seminars and exchange of experience to tighten their co-operation.