Prime Minister Nguyen Tan Dung met his Lao counterpart Bouasone Bouphavanh after he arrived in Vientiane yesterday to attend the fifth Cambodia-Laos-Vietnam Development Triangle Summit.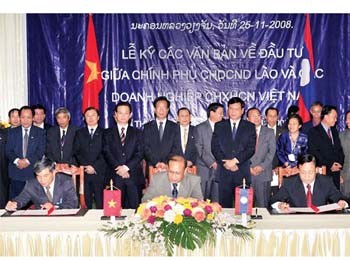 The ceremony for signing agreements between Vietnam and Laos (Photo: Ha Noi Moi)
Congratulating Laos on its hosting of the summit that starts today, Mr. Dung said he believed it would be a success, giving a boost to the cooperation among the three nations.
He was pleased with the bilateral cooperation that has led to the setting up of residential areas along their borders, and promised Viet Nam's continued cooperation to fulfill its agreements with Laos.
He called for closer cooperation to carry out development projects along the border, and asked the Lao Government to create more conducive conditions for Vietnamese businesses to invest there.
He also sought incentives for Vietnamese investors in transportation, generation of hydropower, and mining.
Mr. Bouphavanh said his government provides unstinting support for Vietnamese investments in Laos, adding that his country hopes to learn from Vietnam's experiences in macroeconomic management and combating inflation.
The two leaders later witnessed the issue of a license to Vietnam's Drilling Mud Joint Stock Company and the signing of an agreement for exploring and mining copper ore in the province of Attapeu and a memorandum of understanding on the Xe Bang Hieng hydropower project.