Vietnam's State President conveyed his nation's high estimation of the attention Singaporean leaders pay to advancing all-around cooperation and the establishment of long-term links between the two countries.
President Nguyen Minh Triet met with Singapore's top leaders -- Prime Minister Lee Hsien Loong, Minister Mentor Lee Kuan Yew and Senior Minister Go Chok Tong-- during his visit to the country on November 16.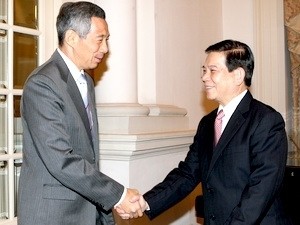 Singapore Prime Minister Lee Hsien Loong (L) receives visiting Vietnamese President Nguyen Minh Triet on Nov. 16 (Photo: Vietnam News Agency)
He stated that Vietnam devotes special attention to furthering and fostering its close, long-term ties with Singapore and values Singapore as one of its most important partners in the region in all fields.
The Vietnamese President expressed the view that positive changes in the two countries' domestic economies and performance in the global economy provide an opportunity for Vietnam and Singapore to boost bilateral cooperation.
Accordingly, Vietnamese leaders have given due attention to creating favorable conditions for Singaporean businesses to operate in areas of their strength in Vietnam, including electronics, information technology, tourism, real estate and the processing of farm and fishery products.
Vietnam wishes to continue to strengthen its trade ties with Singapore and to gain Singapore's support in marketing its for-export products abroad and connecting with the global market, President Triet said.
He and Singaporean leaders spoke highly of the friendship and cooperation between the two countries in all fields, particularly noting that Singapore consistently holds a position as a leading economic, trade and investment partner to Vietnam.
They agreed to unswervingly consolidate and develop comprehensive cooperation between the two countries and coordinate to jointly deploy more effectively the Framework Agreement on Vietnam-Singapore Linkage in investment, finance and banking, education and training, information technology, transport and communications, and the trade and service sectors.
They also agreed upon the expansion of bilateral cooperation in the fields of urban construction, healthcare services, transportation, post and telecommunications.
Prime Minister Lee Hsien Loong confirmed that he will pay an official visit to Vietnam in early 2010 and will attend a ground breaking for the construction of the Vietnam-Singapore Industrial Park in the northern port city of Hai Phong during the occasion.
Minister Mentor Lee Kuan Yew exchanged views with the Vietnamese President on current affairs relating to politics, international economy, and bilateral cooperation with a focus on education and training, information technology and urban planning and management.
Senior Minister Go Chok Tong spoke highly of the effectiveness of the two countries' economic and trade cooperation, particularly the success of the Vietnam-Singapore Industrial Parks in Vietnam.
He agreed to enhance the sharing of information regarding growth and sustainable development issues with Vietnam for the country's post-economic crisis period and future phases of development.
The two countries' leaders reached a consensus on furthering close cooperation in regional and international forums, such as ASEAN, APEC, ASEM and the UN.
The Singaporean leaders asserted their support for Vietnam as it undertakes the ASEAN Chair in 2010.
On the day, President Triet received executives from leading Singaporean economic groups, which are investing in projects in finance, real estate, services, construction, oil and gas and sea ports in Vietnam.
President Triet assured the executives that they can put their minds at ease when doing business in Vietnam and advised them to take advantage of the current favorable conditions to increase trade and investment with Vietnamese partners.
The Singaporean executives spoke of improvements in the investment environment in Vietnam and pledged to speed up the implementation of their current projects and also expand their scope in the country.
Late in the day, Singaporean President S.R. Nathan hosted a banquet in honor of President Triet and his entourage.