The Vietnam Administration of Forestry under the Ministry of Agriculture and Rural Development yesterday launched a week on elephant protection in Nong Son district, the central province of Quang Nam on August 3 with various activities.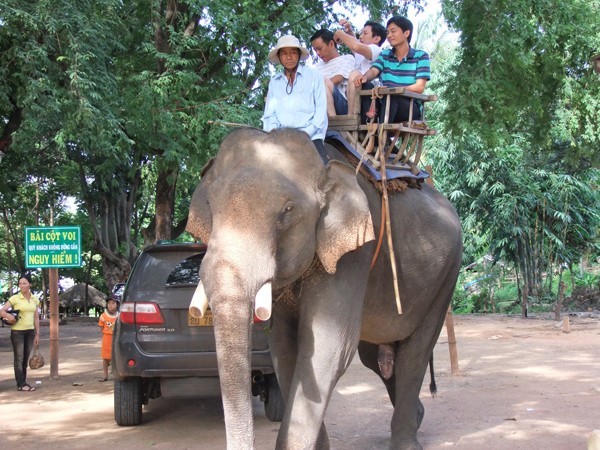 Elephants used for tourism in Don village in the Highlands province of Dak Lak are on the risk of extinction. hence, it is high time to protect them (Photo: SGGP)
As part of a project "Urgently conserve elephants and restrict ivory trading in Vietnam by 2020", the event aims to promote and raise people's awareness of protecting elephants and other wildlife which are on extinction in Vietnam. It will feature competitions and workshops that seek solutions to forest and elephant preservation, and ecotourism development in Nong Son District.

Deputy head of the Administration Cao Chi Cong said that the number of elephants in the country declined drastically through past years because trees on the edge of the forests have already been picked clean or cut down and illegal hunting elephant to cut its tasks for trading.
Accordingly it is high time to preserve the animal. Nong Son District is chosen a place to launch the week because it is one of 15 provinces in the country which a home of wild elephants.

The Administration said that it will liaise with local government and tourist agents to specify what needs to do in developing ecotourism yet still protect the animal.

There will be a talk how to protect the animal between the Administration, the Dak Lak Elephant Preservation Center and local government in Quang Nam on August 6.

In related news, to raise people's awareness of protecting forest on August 2, in Hanoi the Administration also launched a writing competition on planting trees and forest protection themed "Forest is my life".

People capturing the first prize will receive VND15 million (US$ 673.8), two second prize worth VND10 million and many various prizes. The prize –giving ceremony will be held in November.