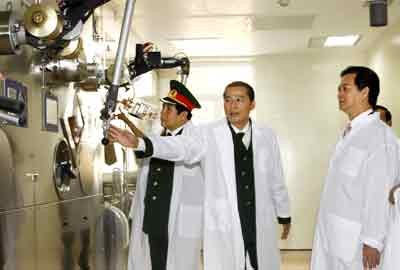 Prime Minister Nguyen Tan Dung (R) takes a tour October 26 of the country's first atomic energy research facility at Hanoi's Army Central Hospital 108 ( Photo: SGGP)
The country's first atomic energy research facility was inaugurated in Hanoi on October 26.


The cyclotron 30 MeV center will be used to research atomic energy for peaceful purposes between domestic and international universities, said the Hanoi-based Army Central Hospital 108 where the center is located.
The facility, the first of its kind in Vietnam, marks an important step in the country's development of nuclear research. Scientists will carry out studies on atomic physics and analyze applications of atomic use in archaeology and the environment.
The center will also produce radiopharmaceuticals for both medical scans (radiology) and cardiovascular and cancer treatment (radiotherapy).
Prime Minister Nguyen Tan Dung attended the inauguration ceremony and instructed the Ministry of Defense to closely monitor the operation of the center to ensure its safety and effective use.
He also directed the hospital to work closely with research institutes, education facilities and other agencies to make the most of the center.