Prime Minister Nguyen Tan Dung attended a ceremony and a conference to launch a national action programme for the "Zero Hunger Challenge," initiated by United Nations Secretary General Ban Ki-moon, on January 14.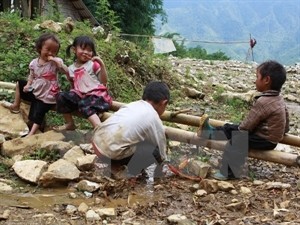 The national action programme for the "Zero Hunger Challenge was launched on January 14 (Photo:VNA)
The anti-hunger initiative, first introduced by Ki-moon during the UN Conference on Sustainable Development (Rio+20) in Brazil in June, 2012, calls on every nation to work together to eliminate hunger and work towards sustainable development.
The "Zero Hunger Challenge" has five main objectives: zero stunted children less than two years old; 100 percent access to adequate food all year round; all food systems are sustainable; 100 percent increase in smallholder productivity and income; zero loss or waste of food.
The Fund and Agriculture Organisation (FAO)-supported programme will be implemented from 2016 to 2025.
Addressing the ceremony, PM Nguyen Tan Dung said although global food production has seen remarkable progress, food security is still a challenge in the Asia-Pacific region, which produces only 50 percent of food in the world but is home to over 60 percent of world's population.
Currently, as many as 805 million people are below the poverty line, while more than 160 million children under five are malnourished and another 2 billion people are going hungry due to a lack of necessary nutrients, he said.
Meanwhile, decreases in the surface area and quality of agricultural land coupled with growing negative climate change impacts also pose significant obstacles to ensuring food security for the ever-expanding 7 billion people around the world, emphasised the Government leader.
He highlighted that Vietnam values and supports the UN Secretary General's anti-hunger initiative and its goals.
With a modest land area of 33 million hectares, only 10.3 million hectares of which are suitable for agriculture, Vietnam faces substantial challenges in feeding its own population, which reached 90 million in 2013 and has grown by an additional million each year, said the PM.
The country imported more than 1 million tonnes of food annually during the 1980's when nearly 70 percent of its population was facing hunger and poverty.
However, thanks to reform efforts, Vietnam has risen to a middle-income developing country and one of world largest rice exporters, he noted, adding that in 2014, the country shipped more than 6.5 million tonnes of rice and a large number of agro-forestry and fisheries products abroad, valued at nearly US$31 billion, said the PM.
The country boasts a current poverty rate of only 7.6 percent, having met nearly all the Millennium Development Goals, and with a GDP growth of 7 percent annually over the past three decades, he reiterated.
However, the leader maintained that Vietnam's agriculture sector still faces challenges, including low global competitiveness and climate change impacts.
To cope with these challenges, Vietnam is implementing two key programmes aiming to build new-style rural areas and restructuring the agriculture sector together with a series of complementary measures, he noted.
He also took the occasion to thank the UN and its associated bodies as well as the international community for assisting the country during its socio-economic development, pledging that Vietnam will continue supporting and working with the UN in realising sustainable development goals.
Speaking at the event, Hiroyuki Konuma, FAO Assistant Director-General and Regional Representative for the Asia-Pacific, vowed to provide technical support to help Vietnam successfully complete the "Zero Hunger Challenge".
Meanwhile, Pratibha Mehta, UNDP Resident Coordinator in Vietnam, said the UNDP commits to continue supporting Vietnam in implementing the programme and the "One UN" initiative.