President Nguyen Minh Triet will lead a high-level Vietnamese delegation to Singapore for the 17th Asia-Pacific Economic Cooperation summit and the ASEAN-US summit on November 14-15, Nguyen Phuong Nga, the spokesperson for the Ministry of Foreign Affairs, said.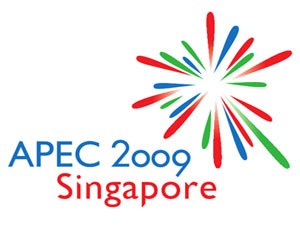 The APEC 2009 summit logo
At the APEC summit, themed "Sustaining Growth, Connecting the Region" this year, leaders are set to discuss measures to address the global economic crisis and pave the way for recovery, and promote international economic integration, Ms Nga said at a press conference in Hanoi November 5.

President Triet is scheduled to deliver a speech at the APEC Chief Executive Officers Summit.

He would also attend the ASEAN-US Summit on November 15, where ASEAN leaders and the US President will review the bilateral dialogue, discuss measures to promote ties between the two sides and discuss international and regional issues, she said. 

Later Mr. Triet will make a two-day state visit to Singapore on the 16th.