President Truong Tan Sang and Prime Minister Nguyen Tan Dung on November 7 congratulated Barack Obama on his re-election as President of the United States.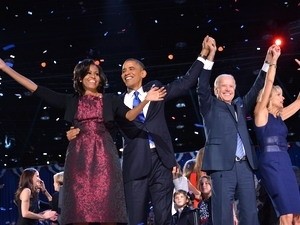 President Barack Obama (second, left) at the victory celebration (Source: AFP/VNA)

The two leaders said in a congratulatory message that they are pleased with the important progress made in Vietnam-US relations during Barack Obama's first term. Cooperation has widely developed in many fields of politics, economics, science and technology, education-training, defence, security, as well as humanitarian activities such as dealing with the aftermath of war.



The two countries have also worked closely at regional and international levels on issues of shared concern, they said.

The leaders of Vietnam expressed their strong belief that mutual relations will be refreshed with President Obama's second term, promoting peace, stability and development in Asia–Pacific and the world.