The Vietnam-Cambodia Friendship Association has co-ordinated with the Vietnamese embassy to hold talks in Phnom Penh on investment and business activities of Vietnamese businesses in the Cambodia market.
Representatives from more than 50 local and overseas businesses in Cambodia have exchanged ideas on investment, laws, payment methods, and consumers' habits in Cambodia.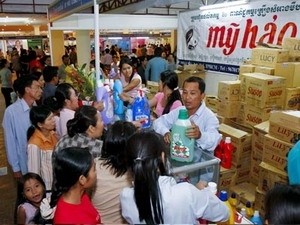 A Vietnam-Cambodia trade fair, themed "Friendship, Cooperation and Development" opened in Phnom Penh on Nov. 6.
Currently, Vietnam ranks ninth among the top ten foreign investors in Cambodia. According to Cambodia's consul general in HCM City, Sam Samouth, on November 5, economic relations between Vietnam and Cambodia have increased strongly over the past ten years with trade turnover in the first half of this year reaching US$862 million.
In the first seven months of 2010, Vietnam's investment in Cambodia reached US$150 million, focusing on such fields as transportation, aviation, banking, trade, agriculture, hydroelectricity, rubber, oil and gas, and health.