To mark 100 days till the opening of the London 2012 Games, a "Living Clock" countdown is being launched in Vietnam.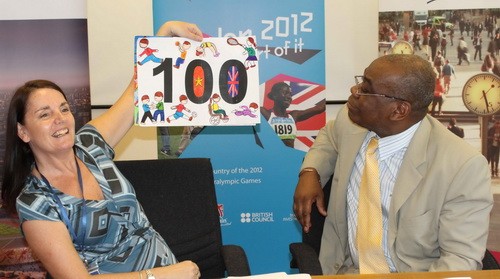 Alison Ball display number 100 drawn by 8 year old Nguyen Song Anh
Numbers 100 to 1 have been illustrated by Vietnamese school kids in Hanoi and Ho Chi Minh City. Between now and the Olympics starting on 27 July 2012 British Council staff will unveil a new number every day in varying locations across Vietnam - culminating with number 1 in Hanoi.
Number 100 was illustrated by eight year old Nguyen Song Anh. Earlier this year Anh was named as the winner of an international British Council competition to find images for its Olympic Calendar. Anh hit the headlines when, despite accidentally labeling London's Big Ben as "Big Bang", he won the competition charming the judges who thought the title worked well as a way of describing the event's expected impact.
Each picture will be posted online every day at the British Council Vietnam London 2012 page as well as on its Facebook page where page members can join in adding their support, "likes" and comments.
The British Embassy will also host the living clock on their homepage as well as Flickr site and Facebook page.
British Council Ho Chi Minh City Director Alison Ball explained: "Excitement is building and with 100 days to go we wanted to mark the occasion and help build a sense of anticipation. Students at our teaching centers have done an incredible job in decorating our numbers. Each day will see a new number and another picture and it will be unveiled by one of our staff, partners or students in the course of their work."