Vietnam wants concerned nations to jointly make a thorough overall study of the impact of hydroelectric projects on the Mekong River's main current before making decisions on building such works, said the Vietnamese Foreign Ministry spokesperson.
FM spokeswoman Nguyen Phuong Nga made the statement on April 18 while answering reporters' questions on Vietnam's reaction to the construction of hydropower dams, including Xayaburi dam in Laos, on the Mekong River.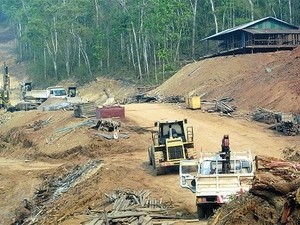 A picture on the Bangkok Post on April 17 shows a backhoe digging the earth on a road leading to the proposed Xataburi dam site.
"The Mekong River is an international river which is of great significance for the socio-economic development and the spiritual and cultural life of people living along the riverbanks," she said.
"As a nation lying along the Mekong River, Vietnam wants related nations to closely coordinate in making a thorough overall study of hydropower projects' impacts on the main current of the Mekong River before making any decision on building these works.
Countries along the banks of the river should closely cooperate in equally and rationally exploiting and using resources, particularly water resources, so as to protect the ecological environment, thus contributing to the common sustainable development of the entire Mekong Basin and benefitting all nations and people living in the region," she said.

Related articles
U.S. Senator Webb: construction of Laos dam could have "devastating consequences" for SEA

Mekong inter-gov't body discloses proposed Xayaburi dam's environmental impacts