Vietnam is seeking funds to build almost 5,900 kilometres of highways until 2020, Vice Minister of Transport Ngo Thinh Duc told a workshop organized by the World Bank in Hanoi Thursday.

Simon Ellis, WB senior transport specialist, said the total cost for building expressways is changing rapidly. The WB estimates it will cost about US$9 million to build one km of highway in Vietnam and puts the total funds the country needs at US$53 billion.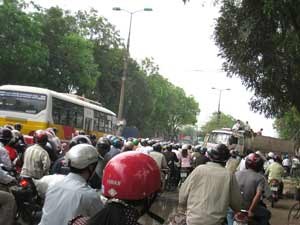 Heavy traffic is often seen in and outside big cities in Vietnam
Updated statistics from the Vietnam Road Department pointes out that about US$1.3 billion is needed per year for the expressway development program. Vice Minister Duc said the government would seek funding from different sources.
Deputy Prime Minister Nguyen Sinh Hung noted in his remarks, "There is a great demand of funding expectedly from international donors for the construction of works, technical assistance for capacity building in management, operation and maintenance."
The workshop, titled Vietnam Expressway Investment Strategy Study, heard reports on the overview of the Transport Expressway Development Master Plan, as well as the experience from other countries on how they developed their expressway networks. Delegates discussed the international experience and the implications for expressway management and finance in Vietnam.
A study by the World Bank shows that Vietnam's rapid economic growth continues to create new demands for transport infrastructure and services. Bottlenecks to business activities caused by infrastructure constraints are already appearing. High rates of urbanization, rising traffic accidents, new capacity constraints, and a large increase in asset preservation requirements to meet the fast expansion of transport assets presents further challenges to the sector.
Over the past 15 years, Vietnam has seen its road transport activity rise at a faster rate than the GDP growth rate. The recent expansion of the vehicle fleet is over 150 percent since 1995 and forecast to grow by a further 300 percent until 2020. This rapid increase in vehicle ownership will place greater strains on the existing road network and hence the need for additional road capacity allowing the safe and fast travel over long distances.
This WB study recommends the establishment of a Vietnam Expressway Administration to manage the process of expressway development and the activities of expressway developers and operators. The study also sets out the roles for the providers of expressway infrastructure and operations, role of State-run enterprises in managing and building the network, and the types of decision that ministries have to make over the balance of finance between the public and private sectors.
Mr. Martin Rama, the WB's acting country director for Vietnam, said, "The World Bank is pleased to be a partner in the development of this network both in terms of financing the infrastructure but also in terms of bringing international best practice on setting up effective institutions and sustainable financing mechanisms."