Vietnam and Malaysia should increase the exchange of high-ranking and ministerial-level visits to accelerate the implementation of the joint declaration on comprehensive cooperation framework in the 21st century.
State President Nguyen Minh Triet made this remark while receiving the Malaysian King, Tuanku Mizan Zainal Abidin Ibni Al-Marhum Sultan Mahmud Al-Muktafi Billah Shah, in Hanoi on March 12.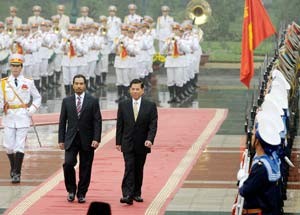 Malaysia's King Tuanku Mizan Zainal Abidin (2nd L) and Vietnamese President Nguyen Minh Triet review an honor guard during a welcome ceremony at the Presidential Palace in Hanoi on March 12 (Photo: AFP)
The President said he is delighted at positive developments in the bilateral relations over the past years. In political area, the two countries exchanged a number of high-level visits, which reflected the mutual trust and desires to develop the bilateral ties, he stressed.
Malaysia is now Vietnam's ninth largest trade partner and second largest investor among foreign countries and territories investing in the country, President Triet noted.
The State leader told his guest that Malaysia is Vietnam's largest labor export market as it recruited more than 100,000 Vietnamese workers.
"Vietnam is sparing no effort to create a more attractive investment environment to draw further foreign investors, including those from Malaysia," he said.
President Triet congratulated Malaysia on huge socio-economic achievements it has posted to become a powerful economy as well as its important role in the region and the world at large.
King Mizan Zainal Abidin, who is on a three-day visit through March 15, thanked for Vietnam's warm welcome, saying his ongoing trip will usher in a new period for bilateral relations.
The King noted with pleasure the progress in Malaysia-Vietnam ties in recent years and that the two countries possess a lot of potentials for expansion of cooperation areas.

Vietnam is an important partner of Malaysia, he emphasized, adding that Malaysia always encourage its businesses to invest in Vietnam.