The Ministry of Health proposed a ban on beer and liquor sales between 10:00 pm and 6:00 am of the following day as Vietnam ranks as the third country to consume most alcohol in Asia despite the nation's income per capita ranking eighth among 10 countries members of the ASEAN.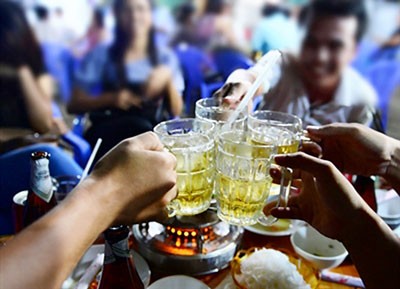 In 2012, Vietnamese drank about 63,000 liters of wine and this figure increased more 5,000 liters in 2013 (Photo: SGGP)
Worse, alcohol abuse is harmful to health and causing social evils.

According to the Ministry of Health and independent organizations' surveys, alcohol consumption in the country is rampant; pubs, eateries and restaurants are always crowded with people from noon to mid-night.

Nguyen Huy Quang, head of the Legislation Department under the Ministry, said that the surveys showed that alcohol consumption is popular in the country especially among male.
It is estimated that 70 percent Vietnamese male usually drink alcohol. Out of four people, one has  six glasses of beer everyday. Too much alcohol consumption causes harm to their health condition.

Hoang Anh, director of non-governmental organization HealthBridge in Vietnam fretted that alcohol consumption per capita increased quickly years after years. Within ten years, alcohol consumption in the country increased over 200 percent or the rate is over 10 percent per years.
For instance, in 2012, beer consumption in Vietnam was around 2.8 billion liters and this level amounted to more than three billion liters in 2013. Local alcohol industry cannot satisfy the demand; as a result, the country has to import a large number of alcohols.

According to Dr. Nguyen Huy Quang, a survey in 2013 displayed that an average Vietnamese drank 32 liter of beer a year.

Wine consumption also increased quickly. In 2012, Vietnamese drank about 63,000 liters of wine and this figure increased more 5,000 liters in 2013. Accordingly, Vietnam is now in the top nations with the highest increase rates of alcohol and beer consumption in the world. The country ranked third in Asia behind China and Japan in terms of beer consumption per capita.

A study showed that the country spend over US$3 billion on alcohol purchase per year while the country's GDP is just over US$170 billion a year; hence, alcohol consumption is a huge burden of the country while the alcohol industry contributes only US$800 million per year to the state budget.
More worrisome, alcohol abuse causes not only harm to human health but also other consequences for the whole country.

Deputy head of the institute Vu Thi Minh Hanh who is among the drafters of the proposal said that alcohol consumption is the major cause of 40 diseases and other alcohol-related diseases. Around 4.4 percent of Vietnamese people are suffering cancer, cirrhosis, liver problems, heart diseases, neurosis and stomach disease and poisoning.

If there is no measure to control alcohol consumption, social development will be influenced, said Ms. Hanh.
Alcohol is the major cause of domestic violence and social anxiety disorder and increase in traffic accidents in the country.
In a report on alcohol and health, the World Health Organization in Vietnam affirmed that there are approximately 60 percent of traffic accidents attributable to alcohol-related cause each year and over 25 percent of traffic accident killed and injured many people. Alcohol is also one of leading cause of family violence and social disorders.