National Assembly chairman Nguyen Phu Trong conferred a second Gold Star Medal on the Vietnam General Confederation of Labor (VGCL) at a function held to mark its 80th anniversary in Hanoi on July 28.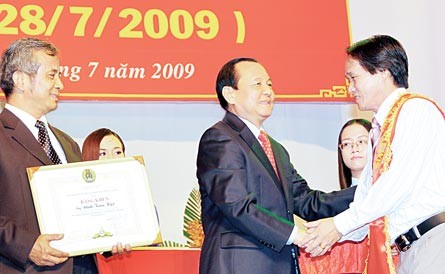 HCMC Party Committee secretary, Le Thanh Hai (L), greets the chairman of the Vietnam General Confederation of Labor, Dang Ngoc Tung, at a meeting held in the city on July 28 to mark the 80th anniversary of the labor union (Photo: SGGP)
Praising its achievements, Mr Trong said the State and Party are always focused on enabling workers and civil servants to develop their abilities and advance the country's industrialization and modernization efforts.
The VGCL should protect the legitimate rights of workers, he counseled.
Also attending the meeting were former Party general secretary, Le Kha Phieu, former president, Le Duc Anh and general secretary of the World Federation of Trade Unions, George Mavrikos.
The same day, Ho Chi Minh City authorities also held a meeting to mark the union's 80th anniversary which was attended by the secretary of the city Party Committee, Le Thanh Hai, chairman of the People's Committee, Le Hoang Quan, and chairman of the VGCL Dang Ngoc Tung.
The Party Committee's standing deputy secretary, Nguyen Van Dua, said the union should take care of workers in the city.
He urged workers and the union to help the city overcome the economic recession.
After the meeting, city leaders conferred awards on seven labor union officials for their excellent work.
The VGCL later held another meeting with 175 officials who used to head the union in the southern region.
Mr. Tung conferred the Independent Medal, third class, on Nguyen Dinh Thang, former deputy chairman of VGCL, and second and third class Labor Medals on two other former union officials.