Ministry of Defense held an inauguration ceremony of the Vietnam National Mine Action Center (VNMAC) in Thach Hoa commune, Thach That district of Hanoi on October 20.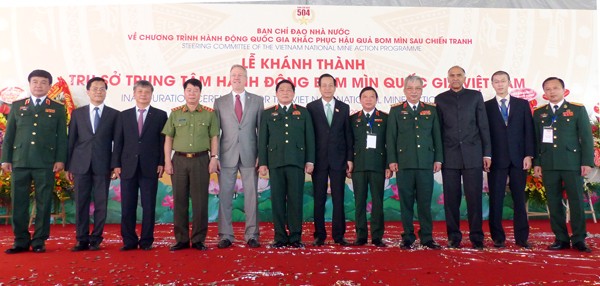 Leaders from ministry of defense, the central ministries, departments and foreign ambassadors attend in the inauguration ceremony of VNMAC.
Attending in the ceremony were Minister of Defense, the Standing Deputy Head of the State Steering Committee for the National Action Program on overcoming post-war bomb and mine consequences (Steering Committee 504) General Ngo Xuan Lich; Minister of Labor, Invalids and Social Affairs Dao Ngoc Dung; leaders from ministry of defense, the central ministries and departments; and leaders from Embassy of the United States, India, Japan and Korea.

The VNMAC was officially begun construction in April, 2015 with its investment capital of VND 415 billion, covering 5.2 hectares and including the head office and exhibition space for Vietnam's post- war bombs and mines.
At the inaugural ceremony, the defense minister said that the country and Vietnamese people have been made its efforts in clearing the large number of post-war bombs.
Although the nation has suffered difficulties and challenges, Vietnamese Party, State and Government have issued policies and solutions to help the affected localities in overcoming post- war consequences in the previous years.
In addition, the General also suggested the VNMAC has to strengthen management ability and operation, raise public awareness about unsafe bombs and mines, and closely collaborate with foreign partners under its target of building and developing VNMAC to be an international and regional mine action center.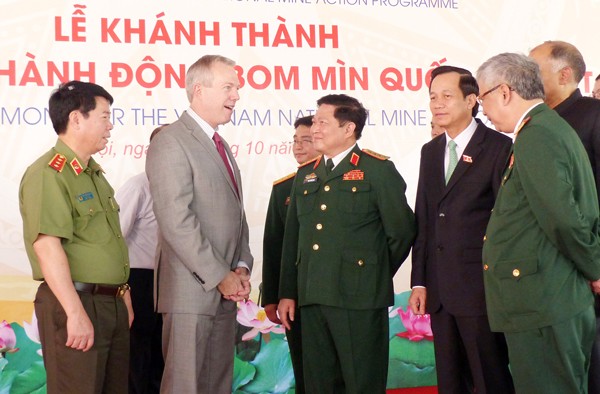 General Ngo Xuan Lich talks with the U.S Ambassador to Vietnam Ted Osius at the inauguration ceremony.
On the same day, conferences on overcoming the consequences of post- war bombs and mines and ADMM+ experts meeting on humanitarian mine action paralleled at the head office of VNMAC chaired by Deputy Defense Minister Senior Lieutenant General, the Standing Head of the State Steering Committee 504 Nguyen Chi Vinh.
Mr. Nguyen Chi Vinh stressed that the war ended in many past decades; but the huge number of post- war bombs and mines still are scattered in 63 provinces and cities nationwide which took the lives of over 50,000 victims, causing 60,000 injured people. Around 6.1 million hectares of land have been polluted from bombs.
The U. S Ambassador to Vietnam Ted Osius stressed that Vietnam and the US will take responsibility for resolving the country's post- war consequences. Every year, Vietnam receives US$ 12 million from the U. S donation source.
At the conference, Ministry of Planning and Investment decided to establish the Mine Action Partner Group (MAPG).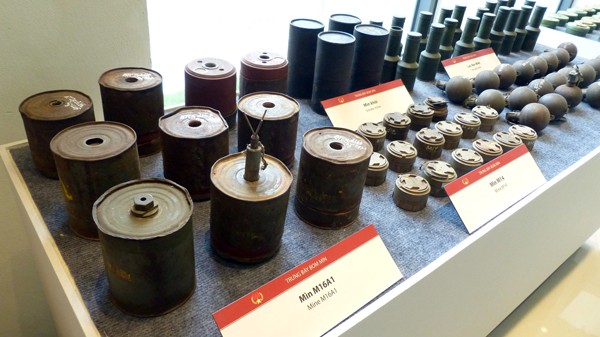 Bombs and mines are showcased at exhibition hall of VNMAC.