Vietnam attaches importance to developing friendship and cooperation with African countries including Morocco, Prime Minister Nguyen Tan Dung said Monday during talks in Hanoi with his visiting Moroccan counterpart Abbas El Fassi.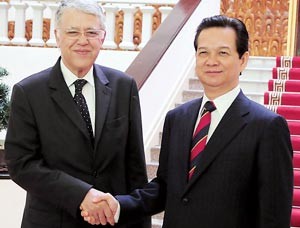 Prime Minister Nguyen Tan Dung (R) greets his Moroccan counterpart Abbas El Fassi in Hanoi Monday
It is the first visit by a Moroccan PM since the two countries established diplomatic ties in 1961.
Vietnam and Morocco inked an agreement on avoidance of double taxation as part of a move to deepen economic ties that are still modest in terms of trade and investment. The agreement was signed right after the formal talks between the two Prime Ministers.
During the talks, the two PMs stressed the need to further boost economic relation between the two countries.
Mr. Abbas El Fassi affirmed that Morocco attaches importance to developing friendly and cooperative relations with Southeast Asian countries, including Vietnam.
The two leaders discussed how to make full use of the two countries' potentials and expand bilateral cooperation in economic, trade, investment, cultural and tourism sectors.
They also praised the results of the first meeting of the Vietnam-Morocco Joint Committee held in March this year, and the signing of the agreement on double taxation avoidance between the two nations, which, they said, would provide a favorable legal framework for boosting bilateral trade cooperation.
The two PMs also exchanged views on international and regional issues of mutual concern.
On the same days, PM Abbas El Fassi had meetings with General Secretary of the Communist Party Nong Duc Manh and National Assembly Chairman Nguyen Phu Trong.
The Moroccan PM will end his four-day visit to Vietnam on Wednesday.
Till now, economic relations between Vietnam and the African country has largely been limited to trade, which is still modest, at only US$45 million for two ways last year and US$29 million in the first nine months of this year.