Within the framework of the State- level visit to Republic of Mozambique, Vietnamese President Truong Tan Sang had a meeting with the National Assembly Chairwoman of Republic of Mozambique Veronica Nataniel Macamo on March 12 (local time).
At the meeting, the National Assembly of Mozambique chairwoman Veronica Nataniel Macamo highly appreciated the visit of Vietnamese President and the high ranking delegation, adding that this is a turning point for two countries' cooperative relations.
Mozambique and Vietnam have been spending traditional friendship relations with many similarities, and thanked Vietnam for its valuable support as well as solidarity in the national struggle and liberation, and building the country as nowadays, stressed Mrs Veronica Nataniel Macamo.
Two countries' national assemblies had many experiences to be able to share and learn each other. Besides, Mozambique will try its best to strengthen cooperation with Vietnam and collaborate closely with inter-parliament organizations with the aiming of boosting bilateral cooperation relations in the fields of economy, trade and industry, telecommunications, agriculture and others. On this occasion, Mozambique wanted to suggest for cooperative signing agreement between the two national assemblies.
Vietnamese President Truong Tan Sang and his wife laid wreath at Mozambican Heroes Monument, at Ho Chi Minh Boulevard in Maputo Capital where became a symbol for good friendly relations between two countries.
On the same day, President Truong Tan Sang took part in Mozambique – Vietnam Businessmen Forum and others activities such as visiting head office of Movitel, a joint venture of the Vietnamese military-run telecom group Viettel in Mozambique; meeting with staffs of Vietnam Embassy and Vietnamese community in Mozambique & toured the head office of Mozambique Liberation Front (FRELIMO), the general secretary of Mozambique's ruling Frelimo Party, Eliseu Machava.
At the meeting of the two countries' leaders, the general secretary expressed his pleasure as Vietnamese President paid the second visit to his country; he also congratulated Vietnam on the successful organization of the 12th National Party Congress and praised the significant achievements.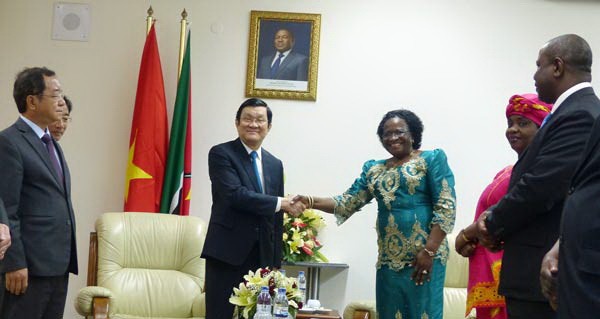 Vietnamese President meets Mozanbique National Assembly Chairwoman Veronica Macamo.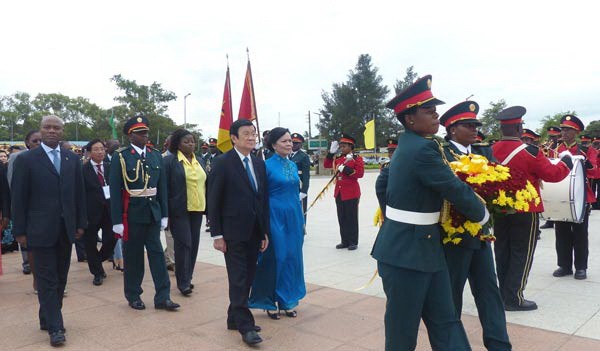 Vietnamese delegation lays wreath at Mozambique Heroes Monument.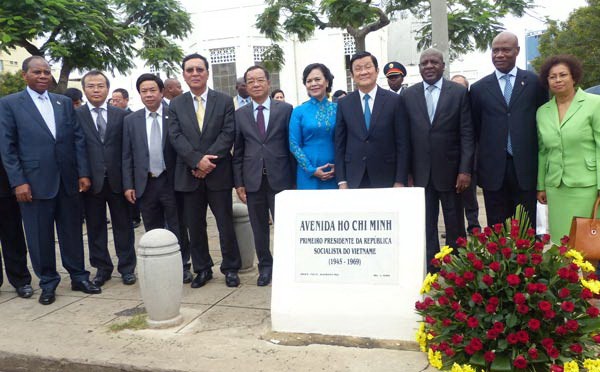 At Ho Chi Minh Boulevard in Maputo Capital.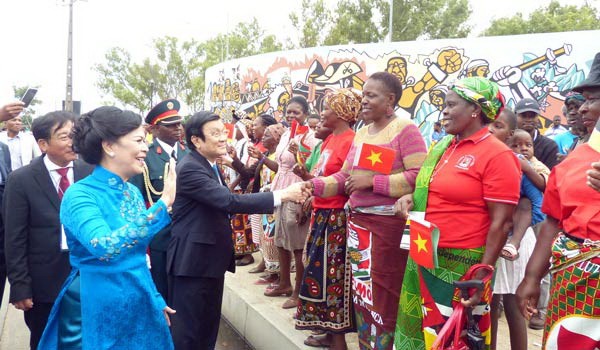 People in the Republic of Mozambique welcome Vietnamese President and his delegation.