After poachers shot the last rare Java rhinoceros, scientists have warned of the extinction of other rare animal species if Vietnam does not adopt preventive measures and strict policies to protect them.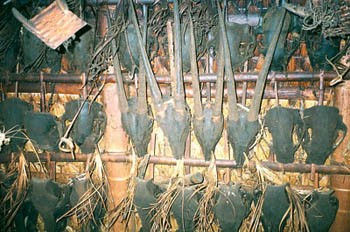 Saola horns found in a private residence (Photo: SGGP)
The World Wildlife Fund (WWF) held a press conference in Hanoi on Tuesday to announce that the last Java rhinoceros had been shot dead for its horn by poachers in the Cat Tien National Park last year. The rare Java rhinoceros was the last of its kind in Vietnam.
Tran Minh Hien, director of WWF Vietnam said that it was painful to know that despite all preservation efforts the country had failed to protect this rare rhino species.
 
Several people blamed the Cat Tien National Park for the death of the Java rhino. Nevertheless, WWF sympathized with the park authorities saying it was the common responsibility of all to protect a common diversity. Vietnam should now implement strict policies and show a determined effort in preserving the most endangered animal species surviving.
 
According to Do Quang Tung, director of the Convention on International Trade of Endangered Species (CITES) in Vietnam, protection of wild animal species come under the jurisdiction of the forest management officials.
Presently, Vietnam has 320 rare wild species which are in need of protection.  Among these are listed the tiger, saola and gaur which live in reservation areas and national parks. However, forest management officials are few in number and not adequately equipped.
Besides, the migrant population is gradually deforesting park areas and hydropower projects and the construction of socio-economic infrastructure in national parks has narrowed the living habitat of wild animals.
Larger mammals like elephants, rhinos, gaurs, saolas and tigers need vast tracts of land to survive and reproduce. Countries all over the world maintain large areas for the preservation of wild animals, up to one million hectares in some places. However, in Vietnam national parks areas are slowly shrinking, Tung said.
White-cheeked gibbon (above) and saola (below) are both endangered species in Vietnam (Photo: SGGP)
Dr. Dang Huy Huynh, chairman of the Vietnam Zoology Association, said Vietnam should reconsider its policies on the preservation of rare animals as the protection of possibly extinct species is wrought with many difficulties. Elephants are now very few in number and concentrated in the central and southern regions, while tigers are slowly disappearing in Vietnam.
According to WWF statistics, deforestation and poaching have caused the hog deer to almost disappear in Vietnam, the saola has been reduced to less than a few hundred and the Tonkin snub-nosed monkey to about 250 in number in the northern region. The white-shouldered ibis and the freshwater crocodile are said to be dying out in Vietnam.
Vietnam developed policies to preserve its wild animals in 1960. However, much still needs to be done and a more concerted and determined effort must be made by the Government if the rare and endangered animal species are to be protected from extinction.
Nick Cox of the WWF species program in the Greater Mekong region has called for Vietnam to take more action in guarding its natural environment, deterring poachers and controlling trafficking of wild animals.
Reservation sites should have more forest management guards, who should be better trained and better equipped to protect the wild animal species, added Nick Cox.
Ha Cong Tuan, deputy head of the General Department of Forests under the Ministry of Agriculture and Rural Development responded by saying that the ministry was currently planning to add a further 3,000 forest officials on the task force to protect the forests and wild life.