Pham Dinh Phong, deputy head of Vietnam Traditional Martial Arts Federation feels that the Government ought to do more to preserve and develop the traditional martial arts of Vietnam, which otherwise may be lost forever.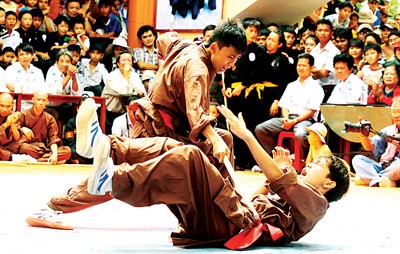 A performance of traditional Vietnamese martial arts (Photo: SGGP)
Mr. Phong, who has contributed a lot towards preserving the quintessential art of Vietnam, said that over the years it has been presented in more than 55 countries and territories in the world and has an increasing number of foreign practitioners.
However, traditional Vietnamese martial arts in general and Tay Son martial arts in particular are in fear of being lost forever, he said. Old books and manuscripts on techniques of martial arts are gradually being lost for lack of proper preservation.
According to Mr. Phong, one of the reasons for this is that authorized organs have no knowledge of this art or the importance of preserving this form of art for posterity.
At present, the only known form of knowledge is being passed down by martial art instructors still living and practicing in the central province of Binh Dinh. However, now they are old and few in number.
Several families used to be good at martial arts, but now none of their family members practice the art.
Hence the Government should pay more attention to preserving and developing the techniques of Vietnamese martial arts, especially the Tay Son style, he said.
Relevant authorities should hold programs to help revive and preserve traditional Vietnamese martial arts, introduce them in schools and in military units for soldiers to practice and improve their health and fighting skills.
Related article:
Vietnamese Martial Arts Festival opens in Binh Dinh Province