Myanmar's parliamentary speaker has expressed wish to deepen the ties between the Assembly of the Union of Myanmar and the Vietnamese National Assembly (NA) in the fields of making laws, supervising and making decision on national vital issues, as well as in ethnic-related affairs.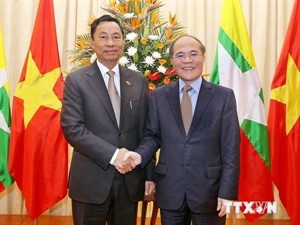 Mr. Thura U Shwe Mann (left) and Mr. Nguyen Sinh Hung (Photo: VNA)
Visiting Speaker of the Assembly of the Union of Myanmar Thura U Shwe Mann made the remark at talks with Vietnamese NA Chairman Nguyen Sinh Hung in Hanoi on September 6.
During the talks, both sides agreed to increase experience sharing between their agencies and parliamentarians so as to strengthen mutual understanding. The two parliament leaders also pledged to create favourable conditions for the two countries' enterprises to invest and do business in each other's country.
Thura U Shwe Mann said Myanmar and Vietnam share many similarities in geography, economy and culture and proposed promoting economic cooperation, especially in agriculture which is a strength of both countries.
He also suggested that Vietnam share with Myanmar its experience in banking and trade development.
For his part, NA Chairman Hung spoke highly of the accomplishments Myanmar has made in developing its economy, expanding foreign relations and partnership, thus elevating the country's position in the international arena.
He said he believed the friendship and cooperation between the two countries will be expanded to many fields, including education, agriculture, energy, communications, finance and banking, defence and security.
The visit of the Myanmar parliament leader will contribute to lifting the ties between the two legislative bodies to a new height, thus further deepening the traditional friendship and cooperation of the two countries, Hung said.
Chairman Hung invited U Shwe Mann to attend the 132 nd General Assembly of the Inter-Parliamentary Union (IPU) that is scheduled for 2015 in Hanoi.