State President of Vietnam Tran Dai Quang yesterday had a meeting with Myanmar Prime Minister Htin Kyaw in Hanoi on his state- level visit to Vietnam.
The state president expressed his pleasure over the first state- level visit of the Myanmar's PM to Vietnam, congratulating achievements of Myanmar's new government in the progress of economic and social development and diplomatic relation expansion. The President hoped that this visit will open a new stage for the friendship and cooperative relation between the two countries.
The Vietnamese president also expressed his pleasure in the two nations' traditional friendship and multi- cooperation relations during past 40 years.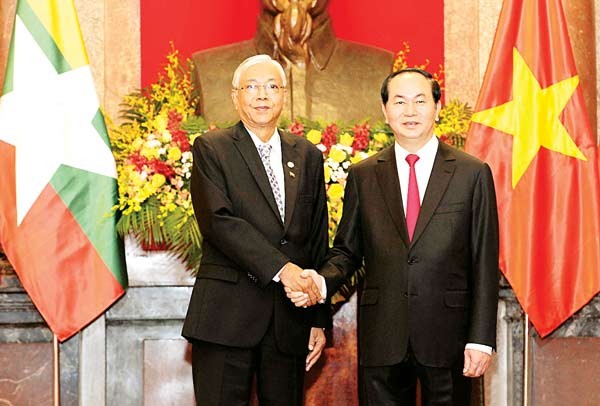 State President of Vietnam Tran Dai Quang (R) welcomes Myanmar Prime Minister Htin Kyaw.
Vietnam is currently Myanmar's 10th biggest trade and investment partner. The two sides have actively cooperated and developed 12 priory sectors such as agriculture, industry, seafood, finance & banking, airline, telecommunications, oil & petro, mine ores, electronic equipment, car manufacture and trade & investment.
At the meeting, the two nations unanimously continue strengthening politics & diplomatic cooperation and high- ranking visits and meetings, maintaining bilateral cooperative policies, further deepening trade & investment relations for the two sides' benefit.
Relating to international and regional issues, Vietnam and Myanmar pledged to collaborate with ASEAN country members in peacekeeping and stability in the region, security, navigation freedom via the 1982 UN Convention on the Law of the Sea (UNCLOS 1982).
On the same day, PM Htin Kyaw laid a wreath at the Martyrs Memorial, visited Uncle Ho's stilt house, paid courtesy to General Secretary of Party Committee Nguyen Phu Trong, and met with Vietnamese PM Nguyen Xuan Phuc and Vietnamese enterprises.