Vietnam suffers a financial loss of 2-6 percent gross domestic product a year due to climate change and needs up to US$30 billion to cope with the issue via green growth development, reported by the Ministry of Planning and Investment.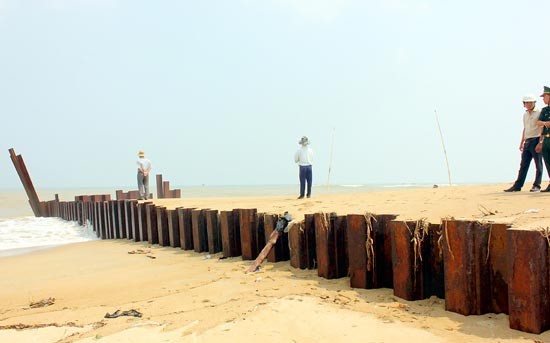 Climate change has worsened coastal erosion in Vietnam (Photo: SGGP)
The report was issued by the ministry, the World Bank (WB) and the United Nations Development Program (UNDP) in Hanoi on May 21, aiming to help the Vietnamese Government make profitable decisions for communities that are most vulnerable to climate changes.
According to Head of the Department of Science, Education, Natural Resources and Environment Dr. Pham Hoang Mai, 88 percent of Vietnam's public investment concentrates on infrastructure and dyke construction to deal with climate change. Nine percent is for science and technology development, and only 3 percent for law making and implementation and resource mobilization.
WB director in Vietnam Victoria Kwakwa stressed the importance of cooperation from the central to local governments to cope with the ongoing drastic drought in Vietnam, especially central provinces of Ninh Thuan and Binh Thuan.
They should give priorities to climate change adaptation policies and attract resources for projects on natural disaster mitigation and exhaust reduction, she added.
Vietnam has approved a green growth strategy since 2012 in an attempt to adapt climate change and alleviate its impacts, said Deputy Minister of Planning and Investment Nguyen The Phuong.
He appreciated the consideration and assistance of international communities, especially WB, UNDP and Japan International Cooperation Agency in carrying out climate change projects in Vietnam.