Presiding over an online environment protection conference yesterday, Prime Minister Nguyen Xuan Phuc said that development must associate with environment protection and Vietnam will not sacrifice environment for the sake of socio-economic development.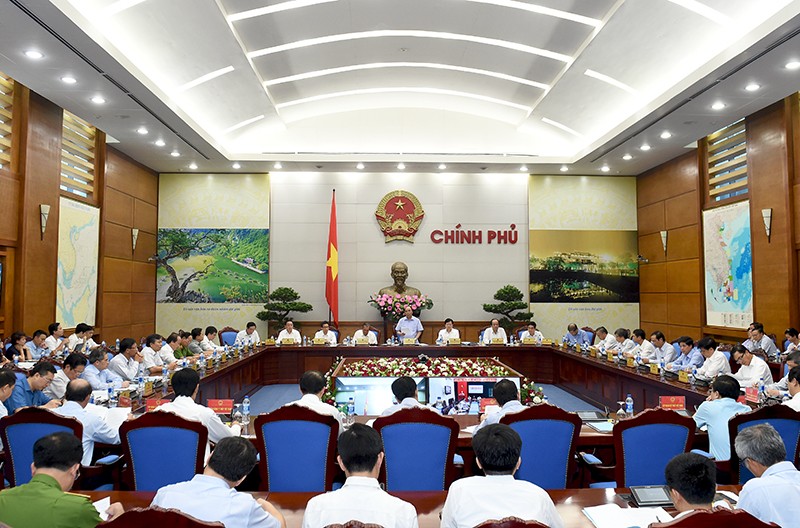 The scence of the online meeting (Photo: SGGP)
Mr. Phuc pointed out that last time, environment pollution has been lately alarming and violations of environmental laws take many different forms. There have been several environmental scandals that have badly affected production and inhabitants' living condition, leading to serious public concern. There have been "hot spots" of environmental pollution in some places in the country which could lead to negative effects if they were not handled properly.

According to Mr. Phuc, the government is determined in finding out resolution for the matter through the online meeting. He urged to verify weakness in governmental management which leads to environmental pollution. He ordered to clarify the responsibilities of relevant agencies, particularly the management role of the natural resources and environment ministry, and of natural resources and environment departments in localities.
Authority leaders will take responsibility before local people and the Government if serious environmental incidents happen in their localities. 
After the meeting, Mr. Phuc will issue a directive on environment protection which has measures and sanction.
Minister of Natural Resources and Environment Tran Hong Ha said that the country's environment is under great pressure of socio-economic development activities. Annually, the country has more than 2,000 reports   to evaluate environment impact on living condition.
Foreign direct investment businesses started to shift their capital flows to sectors that consume huge amount of energy and natural resources, but are not environmentally friendly such as metallurgy, shipbuilding, garment and textiles, footwear and mineral exploitation. Mr. Ha also pointed out some reasons for rampant pollution now. Vietnam has no standards to select production and technique forms as well as policies to promote "green" industry and economy.
Additionally, Vietnamese experts are incapable in early monitoring environmental scandals. Worse, district authorities are neglected environment protection but concentrated on economic benefits. They tried to attract FDI projects by all means.
Accordingly, FDI projects have lately caused environment scandals; for instance, projects of Vedan, Miwon, Formosa. Moreover, foreign investors were taking advantaged of the country's weak regulation to slip in backward technologies into, making most of the country's natural resource and energy in order to maximize their profits.
Yearly, an estimated 100,000 tons of pesticide, 23 million tons of wastes from daily activities, 7 million tons of hazardous waste and 630,000 tons of dangerous waste are discharged from industrial zones, production establishments, businesses and craft villages into the environment each day. The country has 458 landfill sites including 337 unhygienic landfill sites and over 100 small burning incinerators to discharge dangerous gases such as dioxin, furan.