Vietnam and New Zealand on Sept. 12 issued a joint statement on a comprehensive partnership at the end of a four-day visit by Vietnamese Party General Secretary Nong Duc Manh.
The statement begins with the outcome of talks between General Secretary Manh and Prime Minister John Key of New Zealand, stressing on their common decision to lift bilateral relations to a "Comprehensive Partnership".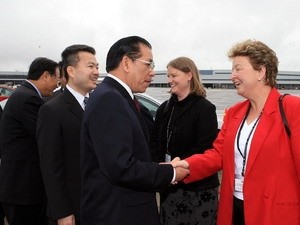 Vietnamese Party chief Nong Duc Manh (with glasses) leaves Auckland Airport for Hanoi on Sep. 12 (Photo: Vietnam News Agency)
The new high-level commitments cover a long list of issues for bilateral cooperation, ranging from politics to economics, trade, investment, official development assistance, education, tourism, culture, labor, customs, police, security and national defence. In addition, science-technology, agriculture and the environment are also on the spotlight of their cooperation agreement.
The statement highlighted the signing of an agreement on free trade between the Association of Southeast Asian Nations (ASEAN), Australia and New Zealand.
It listed a series of issues as the satisfactory result of the Vietnamese Party leader's visit, including New Zealand's recognition of Vietnam's market economy status, the host's decision to receive 100 chefs and 100 well-trained engineers from Vietnam and a bilateral agreement to negotiate on a vacation work program under which each country will receive 100 workers from the other.
The statement pointed to Prime Minister John Key's support for Vietnam not to be necessary to fulfill all commitments of a developing country to the Doha negotiations for its new membership status.
It said he also reiterated New Zealand's strong support for Vietnam's bid to take part in the negotiations of the Trans-Pacific Partnership Agreement (TPP) as an aligned member as well as his country's will to work with Vietnam within the TPP framework.
John Key affirmed his Government's plan to continue official development assistance to Vietnam in the years to come, according to the joint statement.
The two leaders share a view to continue cooperation at international organizations such as the World Trade Organisation in an effort to boost global free trade and at the UN to promote global peace, security and development.
New Zealand recognized Vietnam's active contributions to the UN Security Council in capacity of a non-permanent member in the 2008-09 term. In return, Vietnam took note of New Zealand's bid to take this seat for the 2015-16 term, the joint statement concluded.
During his visit, the Vietnamese Party leader had talks with Governor General Anand Satyanand and met Speaker of the Parliament of New Zealand Lockwood Smith.