Thousands of employees and traffic police personnel working in the transport sector joined many volunteers in Hanoi to stage a march in support of 'Month of National Traffic Safety 2011' under the theme "Prevent Drunken-driving", yesterday.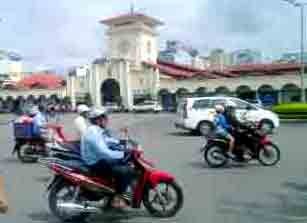 Wearing helmets is a mandatory safety measure when driving a motorcycle on city streets (Photo: U. Phuong)
Addressing the gathering, Deputy Prime Minister Nguyen Xuan Phuc said Hanoi needs to invest in more public transport infrastructure to reduce private vehicles on roads, eliminate "black traffic spots" and reserve more land for the purpose of broadening the roads.
The Deputy PM stressed that Hanoi leaders have to adopt very strict and consistent methods to resolve these issues.

The Ho Chi Minh City People's Committee also decided to launch 'Month of National Traffic Safety' yesterday. The People's Committee Deputy Chairman Nguyen Huu Tin ordered all related agencies to step up propaganda to raise people's awareness of traffic rules and law as well as clamp down heavily on traffic violations to ensure more safety on roads.

The city launched the campaign to build up better traffic culture in communities and in response to the United Nation's 'Decade of Action for Road Safety 2011-2020', that aims to reduce casualties on roads with simple and practical actions. The target for 'Month of National Traffic Safety' is to reduce fatalities by 5 percent, injuries by 10 percent and decrease the traffic gridlock time compared to the same period last year. 
Moreover, stretches of roads still undergoing construction must be made safe for riders and not in any way impede traffic. The City Traffic Safety Committee, the Department of transport and traffic wardens must set up a joint committee to respond to accidents or traffic congestions with great speed.

In addition, traffic police must clear pavements to make it easier for pedestrians to walk and issue fines on traffic violators to reduce traffic casualties in the coming months. An awareness campaign on traffic safety on roads, railways and waterways should be advertised so as to reach every class of society.

According to the City Traffic Safety Committee, there have been 568 traffic accidents and many more gridlocks in parts of the city than there were last year. Worse still, traffic accidents seem to be on the rise and the fad for illegal motorcycle racing has again re-occurred.


WHO and the National Traffic Safety Committee continue to strengthen road safety and eliminate drunken-driving in Vietnam.

Coinciding with the launch of Vietnam's traffic safety month, WHO and the National Traffic Safety Committee (NTSC) announced the commencement of a joint campaign to strengthen road safety in Vietnam from August 28. Focusing particularly on the prevention of drunken-driving, this anti-social behavior being life threatening for other drivers as well as innocent bystanders.

The new campaign on road safety is being implemented in ten countries (RS10) with support from Bloomberg Philanthropy. This program involves a consortium of international partners such as WHO and Johns Hopkins University, and coordinates with various national and provincial officials under the NTSC in Vietnam since 2010.

The 2011 campaign launched today will continue the task of raising public awareness to the dangers and consequences of drunken-driving and on the renewed police enforcement regulations for the same. The program will be implemented nationally and specifically in the northern provinces of Ha Nam and Ninh Binh until the end of 2011.

Mr. Than Van Thanh – Chief Secretary of NTSC said, "As part of Vietnam's commitment to strengthening road safety during the United Nation's Decade of Action for Road Safety 2011-2020, prevention of drunken-driving will be a national priority, now and in the years to come. Hard hitting measures, effective social campaigns along with strict police enforcement will be part of the program in Vietnam" he added.

"Through the RS10 program and other national efforts, more police personnel will be trained, equipped and mobilized to fight against drunken-driving" said Mr. Thanh. "Now more than ever before, if you drink and drive you will have to face the consequences and be severely penalized accordingly".

"WHO values the commitment of the Vietnamese Government in tackling drunken-driving and we will continue to cooperate with national and provincial officials, particularly the NTSC to achieve our common goal of saving lives on Vietnam's roads" concluded Dr. Harrison, WHO Representative to Vietnam.