Vietnam will participate in Trans-Pacific Partnership (TPP) agreement negotiations as an official member, State President Nguyen Minh Triet has said.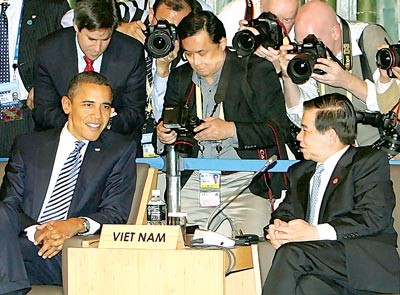 Vietnamese President Nguyen Minh Triet talks with US President Barack Obama at a meeting during the the 18th APEC summit in Yokohama, Japan. (Photo: VNA)
The President affirmed that Vietnam will work together with other members to turn TPP into a new and dynamic regional economic integration for member countries' benefits and contribute to promoting economic integration, growth and prosperity in the region.
President Triet made these remarks at the first-ever summit of TPP members, including Brunei, Chile, the US, Malaysia, New Zealand, Australia, Peru, Singapore and Vietnam, in Yokohama, Japan, on Nov. 14, on the sidelines of the 18 th APEC Summit.
The 18 th APEC Summit wrapped up successfully in Yokohama with the adoption of the Statement on "Yokohama Vision – Bogor and Beyond" along with the Statement on 2010 Bogor Goals Assessment, the APEC Leaders' Growth Strategy, and measures towards Free Trade Area of the Asia-Pacific (FTAAP).
The same day, the Vietnamese President held a meeting with Mexican President Felipe Calderon where they shared common viewpoints on positive progress in the Vietnam-Mexico relations and vowed to continue to boost all-sided cooperation, especially in economy, trade and investment.
The two presidents agreed to step up the establishment of a joint committee for economic, trade, scientific and technological cooperation.
President Calderon said Mexico will continue to train students for Vietnam and wants to learn from Vietnam 's experiences and get the country's coordination in its organisation of the 16 th UN Conference on Climate Change later this year.
Late the same day, President Triet and his entourage visited Nagoya city, Aichi prefecture, where he received Aichi Governor Masaaki Kanda, Nagoya Mayor Takashi Kawamura, President of the Nagoya Chamber of Commerce and Industry Jiro Takahashi and leaders of the Japan Central Economic Association.
President Triet said together with the two countries' strategic partnership, the relations between Vietnamese and Japanese localities and the cooperation between businesspeople are important, bringing practical and specific outcomes to their peoples.
He praised Aichi prefecture and Nagoya city for actively stepping up economic ties with Vietnam , naming the success of Toyota group in Vietnam .
The President expressed his hope that Vietnamese students in the prefecture will really act as a bridge to enhance the relations between Vietnam and Japan .
The Aichi Governor delivered wishes to develop cooperation with Vietnam and stressed that President Triet's visit is a big opportunity for Aichi prefecture and Nagoya city to expand their cooperation with Vietnamese localities.