Vietnam has managed to maintain a steady economic growth rate unaffected by fears of a Eurozone sovereign-debt crisis, the US budget deficit, and the triple natural disasters in Japan, leading international observers' to believe that the country's economy is fairly grounded and on the road to prosperity.

A strong economy

Mrs. Anna Marie Pamintuan, editor-in-chief of The Philippines Star, wrote in   the October 26, 2011 issue: "Emerging from the ruins of war, Vietnam's GDP grew at an annual rate of eight percent from 1990 to 1997, and defied the global recession of the 21st century, growing at 6.8 percent last year. Prosperity is not enough. In a decade or two, there will be a strong Vietnam with wealthy people, democracy, equality and advancement."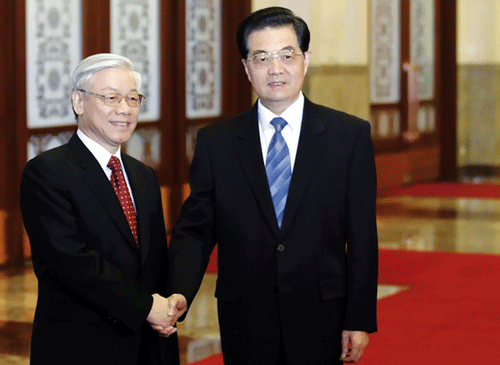 Party General Secretary Nguyen Phu Trong (L) with Chinese Party General Secretary and State President Hu Jintao on an official visit to China
She expressed her admiration for Vietnam, a small country that defeated two of the most powerful armies in the world.

To consolidate her judgment, she cited Goldman Sachs forecast that Vietnam's economy could become the world's 17th largest by 2025. Price-Waterhouse Coopers also predicts the same by 2025, and that Vietnam will become the fastest growing emerging economy. Its low poverty rate or the percentage of population living on less than US$1 a day, is now reported to be lower than that of the first and third largest economies in Asia, namely China and India.

Vietnam is also competing with China and Thailand in sopping up foreign direct investments. Despite the global economic downturn, the country currently has 13,000 FDI projects with a total registered and realized capital of over $200 billion and $80 billion, respectively.

Vietnam next new manufacturing hub

Wall Street Journal graded Vietnam amongst six top emerging markets. 'CIVETS' comprising of Columbia, Indonesia, Vietnam, Egypt, Turkey and South Africa, are being touted as the next generation of tiger economies. Although named after a small feline mammal, CIVETS is expected to replace BRIC, which includes Brazil, Russia, India and China. The S&P CIVETS 60, established in 2007, is ahead of two other emerging market indexes – the S&P BRIC 40 and the S&P Emerging BMI. Among CIVETS, Wall Street Journal suggests that Vietnam will possibly be the world's next new manufacturing hub, replacing China.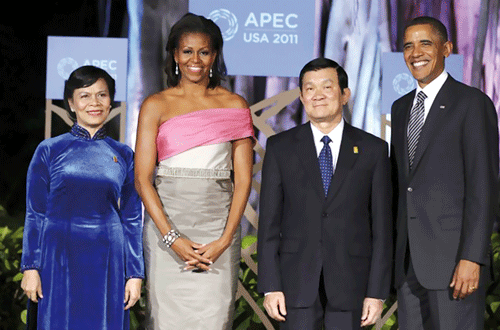 Vietnam's President Truong Tan Sang with US President Barack Obama at the APEC 19 Summit in Honolulu, Hawaii on November 12, 2011
HSBC, global banking and financial services company, has a similar forecast. In its October report on global trade, HSBC considered Vietnam as one of the five economies driving global trade growth by 2025, along with China, India, Indonesia and Egypt. The HSBC Trade Confidence Index showed that confidence levels amongst importers, exporters and traders towards Vietnam remains positive. Vietnam ranked seventh in the global confidence index and third in Asia. The country's trade is set to rise by 144 percent by 2025, from the current US$108.1 billion to $282.5 billion.

According to Bloomberg, after Thailand suffered its worst flooding in 70 years, several Japanese companies are now planning to build more factories in countries like Vietnam and Indonesia.

Not only does it offer more in the manufacturing sector, Vietnam has also earned high praise for its efforts to improve public services. A report from the Chartered Institute of Management Accountants honored Vietnam as a bright example for seeking efficient public services.

In 2007, the government launched Project 30, a plan to cut its administrative procedures by 30 percent. The country created a single, national database for all its administrative procedures and then assessed them against three criteria: whether they are necessary, whether they are user friendly, and whether they are legal.

Vietnam has not yet succeeded in cutting its public services by almost a third – it has reached what the Organization for Economic Co-operation and Development calls a "crucial stage" in attempting to implement its radical cuts, with the first results only just beginning to materialize.

Foreign investors see opportunities

Analyst Cris Sholto Heaton wrote in Money Week that despite a recent bearish market, foreign investors are starting to see opportunities in Vietnam. "There are two reasons why it is worth investing in Vietnam now. The first that the government seems to be tackling the immediate problems and things should improve from there. The second that the market is still very cheap," he wrote. "The VN Index is around seven to nine times forecast 2011 earnings and six to eight times forecast 2012 earnings. There aren't many markets on these valuations." For example, even the S&P 500 dropped over the beginning of the year and is still 12 times higher than forecast earnings.
At the same time, Vietnam is considered one of the most politically and socially stable countries in the world. In the short term, investors fear that sorting out bad loans in the banking sector and state-owned enterprises would put the government finances under too much pressure.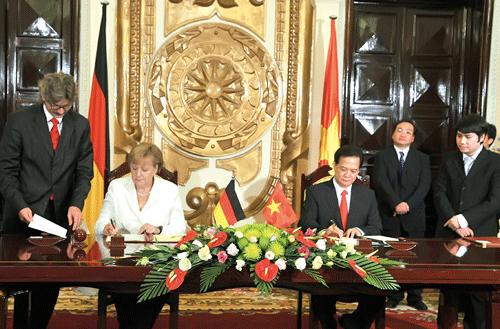 Prime Minister Nguyen Tan Dung and German Chancellor Angela Merkel sign a joint declaration for strategic partnership between the two countries
Vietnam's position does not seem as vulnerable as you might think at first glance. The public debt GDP ratio of 53 percent, with about 60 percent of that owed to foreign creditors sounds alarming. However, the majority of foreign debt is owed to other governments, mostly Japan, and multilateral institutions, including the World Bank and the Asian Development Bank. Overall, as long as the government keeps up the fairly credible policies they had been following in 2011, Vietnam should avoid the worst.

According to Seeking Alpha, a financial and stock analyzing website, despite negative effects from the European sovereign debt crisis and global economic depression, Vietnam remained the ideal destination of global companies, including Unilever NV ADR, and Procter & Gamble. Unilever sales in the country have been growing at an average of 18.5 percent a year over the past decade with sales in Vietnam hitting $700 million in 2010. Vietnamese consumers have also awakened the spirits of companies like Diageo ADR which in January 2010 agreed to buy a 24 percent stake in Halico, Vietnam's biggest producer of spirits like vodka. Not to mention that in April 2010 private equity firm KKR paid $159 million for a 10 percent stake in Masan Group, the country's largest producer of fish sauce.