Hanoi government on Thursday ordered a stop to unprompted demonstrations in an effort to maintain public order and security, the city People's Committee said in a statement.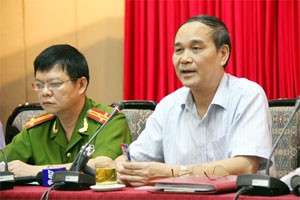 Hanoi Police director Nguyen Duc Nhanh (R) says in an August meeting that Hanoi does not oppress demonstrators. The city has ordered a stop to spontaneous demonstrations to protect public security
Since the beginning of June this year, people around Hanoi have gathered into demonstrations every Sunday to show their opposition to Chinese activities around Vietnam's waters, which have been considered as violations to Vietnam's sea and islands sovereignty.
The demonstrations have started from patriotism but they have gradually been made use of by subversive forces which try to overthrow Vietnamese government, the statement said.
Several local and foreign forces have incited the public to demonstrate, only to cause public disorder around the country's capital city and damaged the UNESCO recognition of Hanoi as "The city for peace", it said.
The intention of the forces is to take advantage of badly-informed people, who thought that joining demonstrations would show their patriotism, to divide the public and stir up hatred between Vietnam and China.
According to the statement, spontaneous marches for the long term will adversely affected Hanoi's political stability and the diplomatic relations of the Party and the central government.
The city People's Committee thus ordered to stop any such demonstrations around the city, to protect the country's sovereignty while maintaining friendly diplomatic relations for the country's development.
Hanoi police forces have been asked to cooperate with concerned agencies to inform people of the policy, explain it to them and earn their support.
Those who deliberately try to violate the order will be held responsible under several government's regulations and will be punished, the statement said.