Prime Minister Nguyen Tan Dung has asked Switzerland to provide assistance in human resource development, especially in vocational training and university faculty.
This was one of the issues spotlighted during a meeting in Hanoi on July 6 between the Government leader and the Swiss Secretary of the Economy, Jean Daniel Gerber.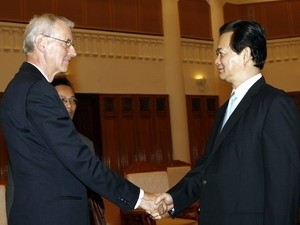 Vietnam's Prime Minister Nguyen Tan Dung (R) greets Swiss Economic Secretary Jean Daniel Gerber in Hanoi July 6 (Photo: VNA)
Dung welcomed the visit by Gerber and a delegation of leading business executives as a boost to bilateral relations in economics, trade and investment.
He pledged to speed up cooperation projects and the creation of a Free Trade Agreement (FTA) between the two countries.
Commitments made by the Government leader were gratefully received by the Swiss guest, who said the key aim of his visit was to focus on the deployment of development projects and to move forward with the process of hammering out an FTA.
The delegation comprised a number of executives representing Swiss industrial giants to study investment opportunities in Vietnam, said Gerber.
The Swiss economic chief pledged further assistance to Vietnam in economic development, while transforming their relationship from one of aid-provider and recipient, to one of economic partnership and cooperation as peers.
The Swiss Government has invested US$10 million in helping Vietnam develop its financial market, stabilize its macro-economy and liberalize trade, Gerber said.