The ongoing 11th National Congress of the Communist Party of Vietnam (CPV) has drawn much public attention around the world, including the Russians.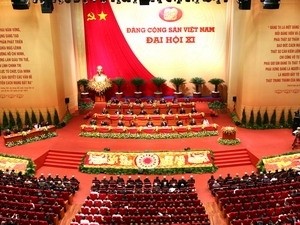 The opening session of the 11th National Party Congress in Hanoi on Jan. 12, 2011 (Photo: Vietnam News Agency)
Granting an interview to Vietnam News Agency reporters in Moscow on Jan. 11, Vice Chairman of the Communist Party of Russian Federation (KPRF) Central Committee and Deputy President of the State Duma Ivan Melnikov said that all KPRF members and the majority of Russian people are keeping a close watch on the 11 th National Party Congress in Vietnam, which opened on Jan. 12, and documents expected to be adopted at the Congress.
The 11 th Congress is an event of historical significance as it takes place when the CPV, which is consistent with Marxism-Leninism and the socialism building guideline, has attained great achievements in all fields, he said.
The KPRF Vice Chairman affirmed that nearly all the world, including Russian people and communists, are paying a great deal of attention to the Congress because Vietnam is one of the few countries which has successfully overcome the global financial crisis and maintained its achievements.
This was one of the CPV's great contributions to developing Vietnam more strongly on the way of building a socialist society with an advanced market economy, he said.
Regarding the role of the 11 th Congress in consolidating and strengthening the relationship between the CPV and the KPRF, Melnikov affirmed that the Congress is an important event that will help further develop the relationship between the two parties and make practical contributions to the interests of the two nations.
The Russian news agency ITAR-TASS also ran an article on Vietnam's 11 th National Party Congress, highlighting that the Congress is an important political event in Vietnamese life as it will consider and approve the country's socio-economic development plan and strategy for the next ten years, as well as elect a new Party Central Committee and nominate candidates for the nation's key leaders.