Vietnam observed a day of mourning on November 19 for people killed in traffic accidents in provinces and cities across the country.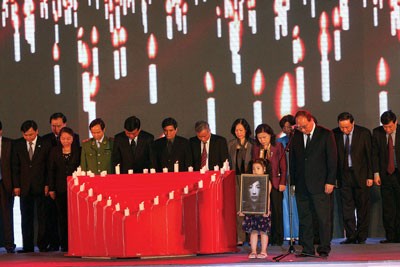 Participants at the meeting stood in one minute silence for victims of road accidents at the Quan Ngua Stadium on November 19 (Photo: SGGP)
A ceremony in honor of those killed in traffic accidents across the country was held at the Quan Ngua Stadium in Ba Dinh District in Hanoi on November 19.

Participants shared sympathy with families of road accident  victims, sending a clear message to all people to strictly obey traffic regulations, help other people on roads and each family and school to educate children to obey traffic laws.
Speaking at the ceremony, Deputy Prime Minister Nguyen Xuan Phuc said that every Vietnamese should be aware of the  tragic consequences of a traffic accident on an individual, a family and to society.
He called for people's absolute allegiance to safe traffic rules, for the happiness of their family, for their country and for a safer traffic environment.
Truong Thi Mai, head of National Assembly Standing Committee for Social Affairs, Transport Minister Dinh La Thang, representatives from related agencies, local authorities, and witnesses of traffic accidents and relatives of victims, as well as students and youth in Hanoi attended the event.
In the first nine months of this year, 23,200 traffic accidents were reported across the country, with 6,657 deaths and 2,681 injuries.
Vietnam marked World Remembrance Day for Traffic Victims on November 19 through various activities to help raise awareness of traffic rules and reduce traffic accidents.
On the same day, the traffic safety committee in Ho Chi Minh City and Youth Communist Union organized a meeting in Binh Chanh District in response to World Remembrance Day for Traffic Victims.
HCMC has implemented many countermeasures to combat accidents and reduce congestion on streets, with effective results.
On the same day, the Mekong Delta city of Can Tho maintained a one minute silence for traffic victims, at a meeting of leaders from concerned agencies and local authorities as well as residents of districts and relatives of victims.   The organizers burnt joss sticks and 129 candles to honor 129 traffic accident victims who had died in Can Tho City in 2011.
Similar ceremonies were held in the Mekong Delta province of Dong Thap, Kien Giang, the highland province of Dak Lak and the southern province of Dong Nai, where traffic accidents were the highest, standing at fourth place in provinces with the most number of victims in the country.
Every year, Dong Nai Province reports 450 traffic accident deaths and 600 injured people. In Dak Lak Province, the Traffic Safety Committee gave away VND2 million (US$96) to each family of a traffic accident victim in 2012.